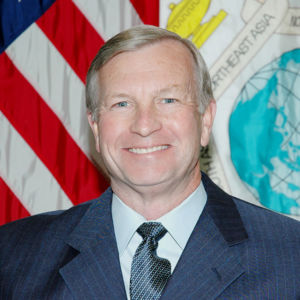 Richard "Dick" Sears is the Deputy Director of the Daniel K. Inouye Asia-Pacific Center for Security Studies (DKI APCSS).
He previously served at the Center as the Dean of Admissions & Business Operations (DABO) from 2003-2022. As DABO, he was responsible for the transformation of all business operations to include all finance, personnel, information management systems, infrastructure, global workshops/engagements, the library, and all aspects of participant admissions to the College of Security Studies while in support of the DKI APCSS long term strategic plan.
In addition, from 2002-2003 Sears served as the Chairman of the Department of Transnational Studies in the College of Security Studies where he was responsible for the establishment of the Counter Terrorism program at DKI APCSS to include the Comprehensive Security Responses to Terrorism course of instruction.
Prior to joining DKI APCSS, Sears served as a Naval Aviator and spent nearly 30 years engaged in operations conducted throughout the Indo-Asia-Pacific Region. He held multiple commands to include service as Commander, Helicopter Anti-Submarine Light Wing, U.S. Atlantic Fleet, Commanding Officer of Sea-based Weapons and Advanced Tactics School Pacific, and Commanding Officer of Helicopter Anti-Submarine Squadron Light THIRTY-SEVEN (HSL-37). Shore assignments included tours in the Joint Staff (J-8), Commander, United States Pacific Fleet as Strike Warfare Requirements and Assessment Officer and tours at the Naval War College and Armed Forces Staff College.