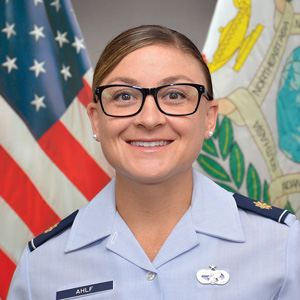 Major Tia Ahlf joined the Daniel K. Inouye Asia-Pacific Center for Security Studies (DKI APCSS) in June  2022 as a Military Fellow after a two-year assignment as the Commander, 92d Logistics  Readiness Squadron at Fairchild Air Force Base, Washington. She is a U.S Air Force  Logistics Officer and has operational experience in the Indo-Pacific region, with extensive  in-country experience in Japan, and Singapore partnered with their respective militaries.
As a Logistics Officer Major Ahlf has led at the Flight, Squadron, and MAJCOM level. She  has experience in developing and implementing MAJCOM and COCOM level strategic  initiatives. Major Ahlf has spent a majority of her career as a logistics officer, leading and  managing logistics plans, vehicle operations, vehicle maintenance, petroleum and oil  products, supply, cargo and passenger movement, and aerial port functions.
Further assignments include War Reserve Materiel Officer, Vehicle Management Flight  Commander, Installation Deployment Officer, Sexual Assault Response Coordinator,  Detachment Commander, MAJCOM Staff Chief of Standardization and Resources, COCOM  Staff Strategic Initiatives Officer, MAJCOM Staff Branch Chief, and Squadron Commander.  Her experience in the Asia-Pacific region includes serving as the Installation Deployment  Officer at Yokota Air Base, Japan and serving as the Detachment Commander at Paya  Lebar Air Base, Singapore. Additionally, she has traveled and explored across the region  extensively during her leisure time. This fellowship is her first assignment in Hawaii.
Major Ahlf received a Bachelor of Arts in Sociology from Washington State University.  She earned a Master of Business Administration in Healthcare Administration from  Columbia Southern University. Most recently, she completed U.S Air Force Air Command and Staff College. Her personal decorations include the Meritorious Service Medals, Joint  Service Commendation Medal, Air Force Commendation Medals, National Defense  Service Medal, and Afghanistan Campaign Medal.