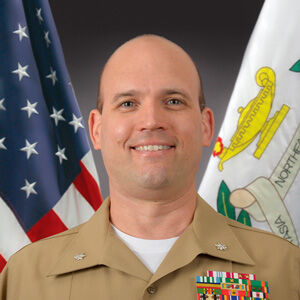 Lieutenant Colonel Howard Eyth joined the Daniel K. Inouye Asia-Pacific Center for Security Studies in February 2020 as a military faculty member after a three-year posting as the U.S. Marine Attaché to Singapore.  He is a U.S. Marine Corps Foreign Area Officer – Western Europe, and Regional Affairs Officer – Southeast Asia by experience, having lived, studied, and worked for 18 years in Europe, and 18 more years in the Indo-Pacific region.  He brings extensive experience in Europe and Asia Security, Defense Diplomacy, Security Cooperation, Contingency and Crisis Response Planning and Execution, Defense Requirements Generation and Resource Allocation.  Born and raised in the American Sector of West-Berlin, West Germany during the height of the Cold War, LtCol Eyth speaks native German and conversational French.
A Marine Ground Logistics Officer by vocation, LtCol Eyth commanded tactical Marine logistics units from Platoon through Squadron including two years as the Commanding Officer of Marine Wing Support Squadron 171 in Iwakuni, Japan.  A  Foreign Security Force Advisor by designation, he led a Border Transition Team embedded with an Iraqi Security Forces battalion conducting counter-insurgency and border enforcement operations in Anbar Province on Iraq's western border with Syria.
Formally trained as a Defense Systems Analyst with experience conducting Combat Assessments in support of the Marine Corps Requirements Generation process during OPERATIONS ENDURING FREEDOM and IRAQI FREEDOM, LtCol Eyth more recently served as Operations Analyst in the Office of the Secretary of Defense, Office of Cost Assessment and Program Evaluation supporting Department level Strategic Portfolio Reviews.
Further Staff assignments include Future Operations Officer, G3, Marine Forces Pacific where he led Contingency and Crisis Response Planning to include Northeast Asia plans, and planning for potential U.S. military assistance to earthquake relief in Nepal.  In this role, he deployed with a small team of USPACOM HA/DR Planners to USSOUTHCOM, and created the operational level Concept of Operations for U.S. military assistance to relief efforts in response to the 2010 Haiti Earthquake.
LtCol Eyth holds a BA in International Business from Ohio Wesleyan University, a MS in Management with concentration in Defense Systems Analysis from the Naval Postgraduate School, and a MA in Operational Studies with concentration in Military Operational Art and Campaign Design from the School of Advanced Warfighting, Marine Corps University.