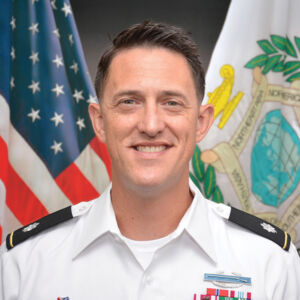 Lieutenant Colonel Jeff Higgins came to the Daniel K. Inouye Asia-Pacific Center for Security Studies in July 2022 as an Army War College Fellow following his assignment at United States Army Pacific Command (USARPAC) as the Secretary of the General Staff.
A native of Jacksonville, FL, Lieutenant Colonel Higgins graduated from the United States Military Academy in 2002 and was commissioned as an Infantry Officer.
Upon commissioning, Lieutenant Colonel Higgins was assigned to Charlie Company, 2-327th Infantry Regiment, 101st Airborne Division where he deployed to Operation Iraqi Freedom I as a Rifle Platoon Leader.  His other key assignments include: Rifle Company Commander during Operation Iraqi Freedom '07-'09 for Bravo Company, 1st Battalion, 21st Infantry Regiment, 25th Infantry Division; Company Tactical Officer for Delta Company, 4th Regiment, United States Military Academy; Battalion Executive Officer for 1st Battalion, 21st Infantry Regiment, 25th Infantry Division; Brigade Operations Officer for 2nd Stryker Brigade Combat Team, 25th Infantry Division; Deputy Division G-3 for 25th Infantry Division; and J5 Plans and Policy Coordinator for NATO Rapid Deployable Corps – Italy (Joint).  More recently, Lieutenant Colonel Higgins commanded 2d Squadron, 2d Cavalry Regiment in Vilseck, Germany.  During this assignment, Lieutenant Colonel Higgins deployed his Squadron several times within the European Theater, including as a Task Force to the Suwalki Gap region of North-East Poland where he served as a NATO Battle Group (Battle Group Poland) Commander of 1200 multi-national Soldiers for 7 months.
Lieutenant Colonel Higgins is a graduate of Infantry Officer's Basic Course (IOBC), Infantry Captain Commanders Course (ICCC); Tactical Information Operations Course; Command and General Staff College (CGSC); and is currently attending Senior Service College as an APCSS Fellow.  He holds a Bachelor of Science Degree in Political Science from the United States Military Academy and a Masters of Arts in Organizational Psychology from Columbia University.
His awards and decorations include the Bronze Star, Defense Meritorious Service Medal, Meritorious Service Medal w/4OLC, Ranger Tab, Combat Infantryman's Badge, Expert Infantryman's Badge, Airborne Badge, Pathfinder Badge, and Air Assault Badge.