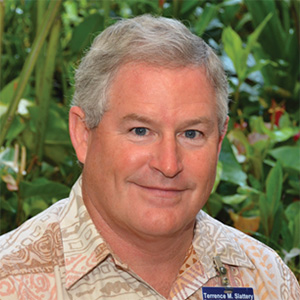 Mr. Terrence Slattery joined the Daniel K. Inouye Asia-Pacific Center for Security Studies in 2008 as a Regional Engagements Coordinator and became the Center's Program Recruiter in 2014. He is responsible for the complex and intricate recruitment details for the Center's programs.
His duties include the development of a comprehensive recruiting strategy, in partnership with key Center stakeholders, which attracts, identifies and enrolls current and future regional influencers, resulting in them becoming strong advocates and active alumni. He works to enhance and expand brand awareness and audience reach by designing and/or participating in the Center's core events and activities that attract and gather our client base and partners. Considering the Center's guiding principles and learning model, he employs best practices in pursuit of program goals and objectives, while effectively and efficiently maximizing opportunities and managing resources.
Mr. Slattery develops and maintains strong relationships with US Embassy, Host Nation and other partners and advocates while designing and executing a dynamic recruiting program which effectively allocates course quotas and increases and then sustains throughput, while emphasizing inclusion and whole of government/society representation. His action plan includes: enhancing the Center's brand and reach, and enabling key interactions and expanded relationships while traveling to constituent countries throughout the Asia–Pacific region.
Mr. Slattery is a retired U.S. Army officer with over twenty-three years of service to include a variety of postings within the Asia-Pacific region, as a Planner at NATO's military headquarters in Belgium, and as a US Exchange Officer/Senior Instructor with the Australian Army.
The Daniel K. Inouye Asia-Pacific Center for Security Studies is a Department of Defense academic institute that addresses regional and global security issues. Military and civilian representatives, most from the U.S. and Asia-Pacific nations, participate in a comprehensive program of executive education, professional exchanges and outreach events, both in Hawaii and throughout the Asia-Pacific region. The Center supports USPACOM by developing and sustaining relationships among security practitioners and national security establishments throughout the region. DKI APCSS' mission is to build capacities and communities of interest by educating, connecting, and empowering security practitioners to advance Asia-Pacific security. It is one of the Department of Defense's five regional security studies centers.
P: 808-971-8951
E: Recruiter@apcss.org