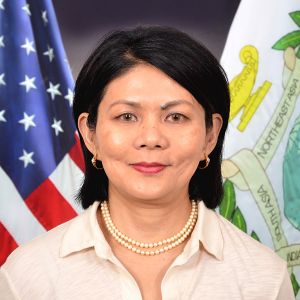 Dr. Virginia Bacay Watson is a professor at the Asia-Pacific Center for Security Studies in Honolulu, Hawaii. Her areas of interest and publication include science, technology and security in the Asia-Pacific region, water security, and Southeast Asia geopolitics.
She has held appointments at the University of Denver and Colorado School of Mines, and served as an exchange faculty for the University of Colorado in Beijing, China, as well as a consultant on issues pertaining to water security, science, technology & security, Southeast Asia and the Philippines.
Dr. Watson obtained her bachelor's degrees in Asian Studies and Management of Financial Institutions from the Philippines. She holds a master's degree in Asian Studies from Cornell University and a doctorate in International Studies (in the field of comparative politics) in the areas of Public Policy and International Technology Assessment & Management from the University of Denver's Josef Korbel School of International Studies. She is fluent in Tagalog and Ilonggo and conversant in Japanese and Spanish.
Dr. Watson's Publications:
---