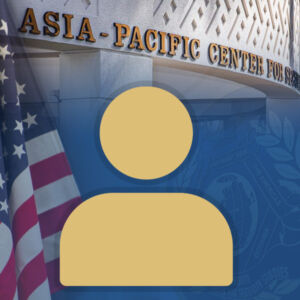 Dr. Belinda A. Yeomans joined the Daniel K. Inouye Asia-Pacific Center for Security Studies (DKI APCSS) as a professor in February 2023. With an emphasis on Japan and Northeast Asia, her research areas include U.S. national security policy and defense strategy in the Indo-Pacific region; America's security architecture; U.S. security alliances and partnerships; security cooperation; and defense operations. Her work emphasizes the importance of strengthening the resilience and effectiveness of America's security relations with its regional and global allies and partners.
Prior to her appointment to DKI APCSS, Dr. Yeomans worked for various academic research centers, federal government agencies, and nonprofit organizations, including the U.S.-Japan Council's Silicon Valley Japan Platform, the U.S.-Asia Security Initiative and the Taiwan Democracy & Security Project at Stanford University's Freeman Spogli Institute for International Studies, the Presidio of Monterey's Defense Language Institute Foreign Language Center, Johns Hopkins University's School of Advanced International Studies, the Asia Society of Washington, DC, and the Monterey (now Middlebury) Institute of International Studies. In addition, she has worked independently as a National Security Research Consultant and Policy Analyst in support of the policy research projects of both practitioners and scholars.
Notable past projects and activities include the Benkyokai Forum of the U.S.-Japan Council's Silicon Valley Japan Platform; a graduate seminar on U.S.-China security relations taught simultaneously in the United States and China via a video-teleconferencing facility known as the Highly Immersive Classroom; the U.S.-Asia Security Initiative (USASI) Security and Defense Dialogue Series (Japan 2016, 2018, 2019; Southeast Asia (ASEAN) 2017; Republic of China (Taiwan) 2018, 2019; People's Republic of China, 2018); mentorship of the Senior Military Fellows at Stanford University's Freeman Spogli Institute for International Studies; the USASI Distinguished Speakers Series; the USASI Military Orientation Tours for national security scholars; Japan's Mt. Fuji Dialogue series; the Australian American Leadership Dialogue series; the American Academy of Arts and Sciences' project on Civil Wars and Global Disorder; a working group on internal proposals for restructuring the NATO Military Committee; and journal articles and academic book projects on the rising challenges in U.S.-China relations, on America's strategy in the Afghanistan War, on social science research methodology and theory development, on political economy and development in Brazil and Mexico, and on the U.S. Constitution and the impact of key judicial decisions on American civil rights and liberties.
Dr. Yeomans earned her undergraduate degree at the United States Military Academy and at Harvard University, graduating with honors from Harvard with an A.B. (double major) in Government and in East Asian Languages & Civilizations. She completed a Master of Arts in Political Science at the University of California, Berkeley. She earned both an M.A. in East Asian Studies and a Ph.D. in Political Science at Stanford University.