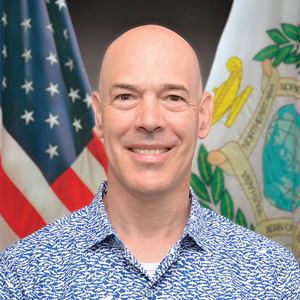 Seth Bailey joined the Asia-Pacific Center for Security Studies (DKI APCSS) in July 2022 as the Department of State's Senior Diplomatic Fellow. He has spent the bulk of his State Department career focused on political issues in China.  Prior to joining the faculty at APCSS, Mr. Bailey served as the Minister Counselor for Political Affairs at U.S. Embassy Beijing from 2019-2022, where he led negotiations with the PRC.
In Washington, Mr. Bailey served as the Internal Unit Chief and Acting Deputy Director of the China Desk from 2015-2017.  Before that, he was the Co-Chair of the China Task Force in the Bureau for Economic Affairs from 2014-2015, where he also focused on Trans-Pacific Partnership (TPP) negotiations.  From 2013-2014, Mr. Bailey served as a Senior Legislative Management Officer, working with Department leadership and Congress to synchronize economic and energy policy initiatives.  Mr. Bailey also led teams focused on public diplomacy and public affairs in Northeast China (spanning from the China-Russia border to the China-North Korea border) from 2011-2013.
In addition to his China-related assignments, Mr. Bailey has served the Department in several South Asian tours.  He was the acting Deputy Political Counselor in Kabul, Afghanistan from 2017-2018, and led the hostage and prisoner-release negotiation teams.  He also served as the Bureau of Counterterrorism's Senior Policy Advisor for South Asia from 2007-2009, leading a team that managed U.S. anti-terrorism assistance programs for India, Pakistan, Afghanistan, Nepal, Bangladesh, and Sri Lanka.  Prior to serving as the South Asia CT Senior Advisor, Mr. Bailey was a political officer in Sri Lanka from 2006-2007, serving as the Embassy's only Tamil speaker during that portion of the Sri Lankan civil war.
Mr. Bailey also served tours in South Korea and completed the State Department's two-year Chinese language program.  He speaks Chinese, Korean, and (some) Tamil.  Prior to joining the State Department, Mr. Bailey was an attorney, practicing in Utah, Idaho, Oregon, and Washington.  He received a Juris Doctorate from the University of Texas School of Law in Austin Texas, where he was the Editor-in-Chief of the American Journal of Criminal Law.  He received a Bachelors degree of Arts from Brigham Young University and also studied in Israel.