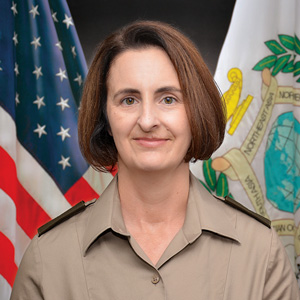 Lieutenant Colonel Jacqueline L. Hearne joined the Asia-Pacific Center for Security Studies (DKI APCSS) as a Military Professor in July 2022.
Lieutenant Colonel Hearne received her commission in 2002 from Furman University. She began her Army career as an Aviation Officer before transitioning to duty as a Foreign Area Officer in 2011.
As an Aviation Officer, Lieutenant Colonel Hearne served and deployed as a C-12 pilot-in-command and staff officer in aviation-related Military Intelligence Battalions, including 15th Military Intelligence Battalion (Aerial Exploitation) and Task Force ODIN, both in Fort Hood, Texas. Lieutenant Colonel Hearne's last Aviation assignment was as Delta Company Commander, Task Force 239, Balad, Iraq, where she employed fixed-wing and unmanned aircraft systems in support of United States Forces- Iraq.
In 2011, Lieutenant Colonel Hearne became a Northeast Asia focused Foreign Area Officer and subsequently served in various positions across the Indo-Pacific, including United States Army – Japan liaison officer to Japan Ground Self-Defense Force Western Army in Kumamoto, Japan; Japan Country Director for U.S. Indo-Pacific Command, Camp Smith, Hawaii; and Assistant Army Attaché to U.S. Embassy Tokyo, Japan.
Lieutenant Colonel Hearne was born in Utah but raised in Florida. She completed her Bachelor of Arts degree in 2002 at Furman University with majors in political science and philosophy. In 2012, she graduated from the Defense Language Institute Foreign Language Center with an Associate of Arts degree in Japanese Language. In 2015, she earned her Master of Arts in Regional Studies: East Asia from Columbia University in the City of New York.
Lieutenant Colonel Hearne's professional military education includes Initial Entry Rotary Wing Training, the Aviation Officer Basic Course, the Fixed-Wing Qualification Course, the Military Intelligence Captain's Career Course, Japan Ground Self-Defense Force Command and General Staff College, and the Joint Military Attaché School.