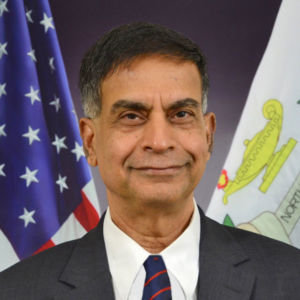 Shyam Tekwani is professor at the Daniel K. Inouye Asia-Pacific Center for Security Studies where he specializes in political violence, terrorism and counterterrorism; security dynamics of South Asia and the role of media in security. His research interests include the role of media in conflict, new media and security sector reforms.
Professor Tekwani's extensive background in the media as a journalist reporting conflict and insurgency in the Indo-Asia Pacific includes his exclusive reportage of the ethnic conflict in Sri Lanka which he covered exhaustively since its inception in 1983. His move to academics converged with the parallel shift of insurgencies and propaganda to the Internet in the early-90s and his early academic work focused on the use of new media technologies by terrorists and insurgent groups.
Professor Tekwani has been studying terrorism and insurgency for over thirty-five years.  He has taught courses and lectured widely across countries at universities and institutions, including the last decade at the School of Communication Studies in the Nanyang Technological University, Singapore.
A native of India, Professor Tekwani earned a B.A.(Honors) in history and comparative religion from Visva-Bharati University, Santiniketan, and an MFA (Master of Fine Arts) in Photography from the Maryland Institute College of Art, Baltimore.
Professor Tekwani has authored and co-authored several books, book chapters, articles and opinion pieces. Some of his publications include: (ed.) Media and Conflict Reporting in Asia (2008); "Online Networks of Terrorist Groups and their implications for Security:  A Case Study of Sri Lanka's Liberation Tigers of Tamil Eelam (2007)"; "Embedded Journalists – lessons from the Iraq War"(2005); "The Internet in the 2004 Sri Lankan Elections" (with Randy Kluver, 2007); "Two Indias: The Role of the Internet in the 2004 National Elections" (with Kavitha Shetty,2007); "The Media, Information Revolution and Terrorism in Southeast Asia"(2004); and "The Tamil Diaspora, Tamil Militancy, and the Internet" (2003).
Professor Tekwani is currently completing his book, Serendip to Sri Lanka on the Tamil Tigers and the ethnic war in Sri Lanka.

Professor Tekwani's Publications:
---
Also…