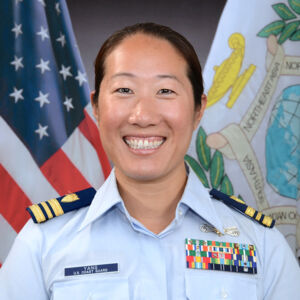 Cmdr. Yvonne Yang joined the Daniel K. Inouye Asia-Pacific Center for Security Studies in June 2023 as a Military Fellow. Prior to that, she served as the Incident Management Division Chief at USCG Sector San Francisco, where she directly oversaw Marine Environmental Response efforts and was a Search and Rescue Mission Coordinator.
Before that, she was stationed at the Coast Guard's 17th District Headquarters in Juneau, Alaska, from 2016 to 2020 as the Domestic Fisheries Section Chief, managing the enforcement of U.S. and international fishery enforcement efforts, including the enforcement of Illegal, Unreported, and Unregulated (IUU) fishing. Within that time between 2017 to 2018, she also served as the aide-de-camp to the Commander, Coast Guard 17th District.
From 2013 to 2016 she was stationed at USCG Sector New York as the Operations Planning Chief, planning and coordinating maritime security efforts and enforcement. From 2008-2011 she was an instructor at the Coast Guard Maritime Law Enforcement Academy in Charleston, South Carolina instructing Coast Guard Boarding Officers and Boarding Team Members.
Her first assignment in the Coast Guard was from 2006 to 2008 onboard the USCGC ACUSHNET, a 213' medium endurance cutter in Ketchikan, Alaska, where she was assigned as a Deck Watch Officer and Boarding Officer throughout the Gulf of Alaska and Bering Sea.
She completed her Bachelor of Science degree in 2006 at the United States Coast Guard Academy, with a major in Government and International Relations. She holds a Master of Public Administration from the University of Southeast Alaska, with a concentration in Natural Resource Policy.