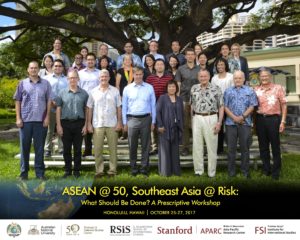 This week the Daniel K. Inouye Asia-Pacific Center for Security Studies co-hosted a workshop on "ASEAN @50, Southeast Asia @ Risk:  What should be done?  A Prescriptive Workshop."  The event which kicked-off with a reception on Wednesday evening in Honolulu included two days of Australia-Singapore-US policy trialogue on Southeast Asia.
The Southeast Asia Program and the U.S.-Asia Security Initiative in the Walter H. Shorenstein Asia-Pacific Research Center, Freeman Spogli Institute for International Studies (Stanford University) prepared this program and planned the workshop in cooperation with Trialogue partners:  the Strategic and Defence Studies Centre (Australian National University); the S. Rajaratnam School of International Studies (Nanyang Technological University); and the Daniel K. Inouye Asia-Pacific Center for Security Studies.
The October 25-27 workshop was intended to facilitate frank and creative discussion and evaluation of specific policy recommendations for consideration by specific relevant actors regarding four sets of Southeast Asia-related topics: regional security, regional infrastructure, regional economy, and improving ASEAN.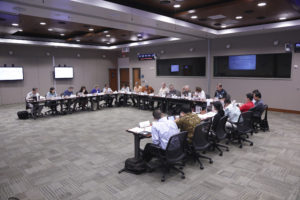 Guest speakers at the event included Joseph Felter, Deputy Assistant Secretary of Defense for South and Southeast Asia; U.S. Representative Colleen Hanabusa; Rear Admiral Matthew Carter, Deputy Commander, U.S. Pacific Fleet; and, Rear Admiral Patrick A. Piercey, Director of Operations for U.S. Pacific Command.
Final paper related to the workshop will be released in the future and shared on the website and/or social media accounts of all the partners involved.
For a complete list of participants, CLICK HERE
For the full report on this workshop, CLICK HERE.
-END-