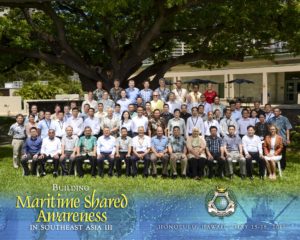 The Daniel K. Inouye Asia-Pacific Center for Security Studies hosted the third iteration of the annual workshop series, "Building Maritime Shared Awareness in Southeast Asia".  The workshop series brings together maritime security practitioners from the ASEAN member states to identify opportunities to advance regional maritime shared awareness.
According to workshop academic lead, Professor Kerry Lynn Nankivell, the four-day workshop "follows up ADM Harris' invitation to ASEAN member states to deepen their cooperation in maritime security. It also resonates with Vice President Pence's remarks to the ASEAN members at the Secretariat last month in which he emphasized the importance of working together to improve regional maritime security and information sharing."
The workshop included 50 participants from 11 nations including Brunei, Cambodia, Indonesia, Laos, Malaysia, Myanmar, Philippines, Singapore, Thailand, the U.S., and Vietnam. Professor Nankivell explained that the discussions "provided an opportunity for officials from all 10 ASEAN member states to lay out their preferences, capacities and needs with respect to a region-wide maritime information sharing architecture."
Participants shared their lessons learned and near-term milestones in improved maritime information sharing. The U.S. participants hosted their counterparts at Joint Interagency Task Force West (JIATF-W) at U.S. Pacific Command to share their current approach to interagency and partner-nation information sharing. As a result of their discussions, participants develop a common understanding of each others' agencies, practices and achievements. In addition to agreeing tangible next steps to build a regional maritime picture, workshop participants agreed that building maritime shared awareness is an immediate regional need and that established ASEAN processes are the appropriate means through which to foster deepened cooperation.
DKI APCSS will host a fourth iteration of the workshop in 2018.
-END-
For more photos of this workshop, visit our album on Facebook at  https://www.facebook.com/pg/DKIAPCSS/photos/?tab=album&album_id=10155226192453913