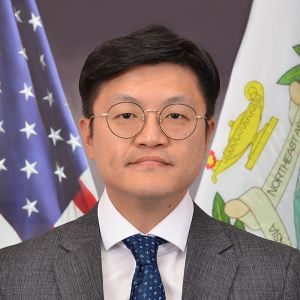 Dr. Sungmin Cho joined the Daniel K. Inouye Asia-Pacific Center for Security Studies (DKI APCSS) in August 2018. His area of research interests covers China-Korean Peninsula relations, North Korea's nuclear program, Korean unification, and the US alliance in East Asia. He also closely follows the domestic politics of China and North Korea.
Prior to arriving at DKI APCSS, Dr. Cho was a lecturer for the Asian Studies Program at Georgetown University from 2016 to 2018, where he taught the domestic politics of China and the politics of nuclear weapons in East Asia for both undergraduate and graduate students. Dr. Cho has published or forthcoming articles on the politics and security affairs of Northeast Asia in peer-reviewed journals, including World Politics, Journal of Contemporary China, The China Journal, Asian Security, Journal of Indo-Pacific Affairs, and Korea Observer. His commentaries appeared in Foreign Affairs, The Washington Quarterly, War on the Rocks, and The Diplomat, among others.
For his doctoral dissertation research, Dr. Cho conducted two rounds of fieldwork in China in 2015-2016, supported by Georgetown University's summer research funds and the Smith Richardson Foundation. He did archival works in Beijing and interviewed former Chinese officials to explore China's strategic openness to the Western democracy promotion programs. Previously between 2008-2010, Dr. Cho did fieldwork in the Chaoxian Autonomous Region in Northeastern China for his master's thesis on China-North Korea relationship. He also worked at the Beijing office of the United Nations High Commissioner for Refugees for the protection of North Korean defectors in 2009.
Before starting graduate studies, Dr. Cho served in the Republic of Korea Army for three years, which he completed at the rank of first lieutenant. As an interpretation officer of the Capital Corps of the ROK Army, Dr. Cho participated in the US-ROK joint exercises to defend the Seoul Metropolitan Area in 2005. He was later deployed to Erbil, the capital of Iraqi Kurdistan as part of the Multinational Forces-Iraq in 2006. Returning from Iraq, Dr. Cho worked in the Korean Army Logistics Command in 2007-2008, where he managed the military sales from the United States to South Korea.
Dr. Cho was a proud member of Pacific Forum's Young Leaders Program in 2009-2010. He worked at Pacific Forum for one year as a residential fellow under the James A. Kelly Korean Studies Program in 2011.
Dr. Cho received his PhD in Government from Georgetown University, Master's degree in International Relations from Peking University, and B.A. in Political Science from Korea University. He also spent a year as a visiting student at the University of British Columbia.
Dr. Cho is an avid fan of movies and books. He traveled by bicycle from Beijing to Nanjing in China in the winter of 2009, and along the border between China and North Korea in the summer of 2010. A native Korean, Dr. Cho speaks Korean, English and Mandarin Chinese.