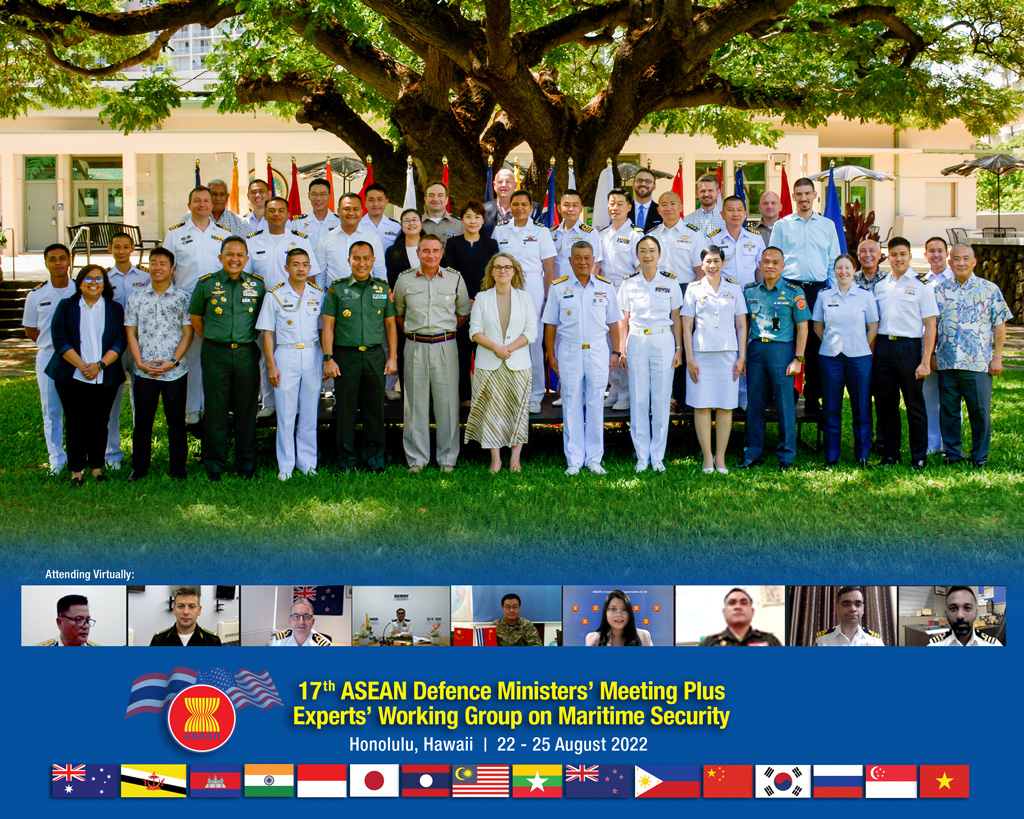 Pursuing practical cooperative measures to mitigate maritime security challenges was one of the topics addressed at the recent 17th ASEAN Defence Ministers Meeting Plus, Experts' Working Group on Maritime Security held August 23-24 at the Daniel K. Inouye Asia-Pacific Center for Security Studies in Honolulu, HI.
Thailand and the United States currently serve as co-chairs for the group. VADM Supapat Yuthavong, Director General, Navy Operations Department, Royal Thai Navy, led the Thai co-chair team. The Thai team included representatives from the Thai Ministry of Defence and the Royal Thai Navy.
Lindsey Ford, Deputy Assistant Secretary of Defense for South and Southeast Asia, led the U.S. co-chair team. The U.S. team included representatives from the U.S. Indo-Pacific Command, U.S. Pacific Fleet, U.S. Mission to ASEAN, the Joint Staff, and the Joint United States Military Advisory Group (JUSMAG), Thailand.
The 17th EWG marks the fourth meeting for the Thailand-U.S. co-chair cycle (2021-2024). The forum strengthens ASEAN-led maritime security mechanisms through encouraging dialogue and confidence-building among its members.
"This working group is an incredibly valuable opportunity for the Indo-Pacific region," said Maj. Gen. Chris McPhillips, Director for Strategic Planning and Policy, J5, U.S. Indo-Pacific Command. "The discussions that bring together leaders and subject matter experts are absolutely critical to producing shared solutions."
During the discussions, the participants pursued practical cooperative measures that addressed shared maritime security challenges. For the 17th EWG Meeting, all 18 EWG members participated, with a majority attending in person and a small number joining virtually. The meeting featured keynote remarks by Major General McPhillips, while Deputy Assistant Secretary Ford commented on the current maritime security environment.
Additionally, Dr. Satu Limaye, Vice President and Director of the East-West Center in Washington D.C., and Admiral Samuel Paparo, Commander U.S. Pacific Fleet, joined as participants and provided luncheon remarks. Business matters discussed during the meeting addressed updates to the work plan for the 2021-24 cycle, a report on the Future Leaders Program convened by Thailand in May 2022, presentations by Indonesia and Japan on recent and future maritime security (MS) activities, and progress reviews of the ADMM-Plus EWG on MS Roadmap 2024-40 and ADMM-Plus EWG on MS Table-Top Exercise.
Thailand will host the next 18th ADMM-Plus EWG on MS meeting in Bangkok from February 20-23, 2023. The ADMM-Plus EWG on MS Table-Top Exercise will run concurrently from February 21-24, 2023.