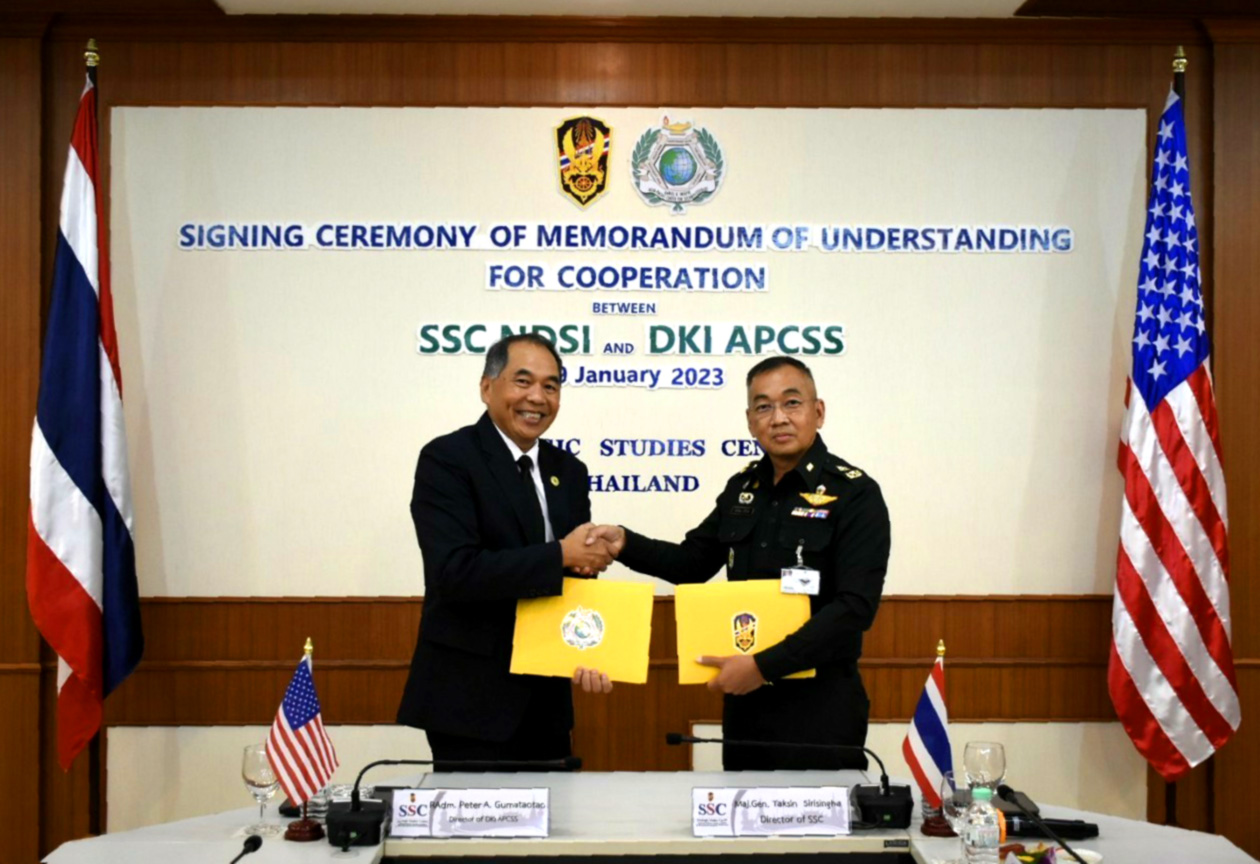 BANGKOK, Kingdom of Thailand — Major General Taksin Sirisingha, Director of the Thai Strategic Studies Center (SSC) and Rear Admiral (retired) Pete Gumataotao, Director of the U.S. Daniel K. Inouye Asia-Pacific Center for Security Studies (APCSS), signed a Memorandum of Understanding for Cooperation (MOU) at the Royal Thai Armed Forces National Defence Studies Institute in Bangkok on January 19, 2023.
The MOU provides a framework to advance cooperation in education and strengthen bonds of friendship. The key takeaways are:
Leadership Exchanges: Leaders from each institution will conduct exchange visits that will enhance cooperation on regional security issues.

Faculty and Research Staff Exchanges: Faculty and researchers will participate in exchanges to deliver lectures and conduct research cooperation.

Joint Seminars, Workshops, Conferences, and Education: Faculty members are invited to support joint seminars, such as the annual Senior Security Studies Program to promote strategic education for senior Thai security leaders and practitioners.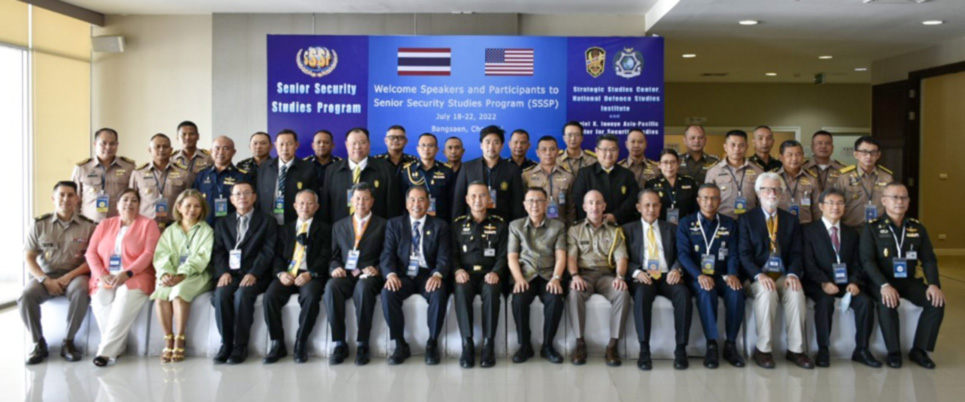 Thai APCSS Alumni Foundation: Both institutions will promote activities of the Thai Alumni Group of the Daniel K. Inouye Asia-Pacific Center for Security Studies, which includes Thai officials from across ten Royal Thai Governmental Agencies.

"I am very pleased to welcome Director Gumataotao here in Thailand to celebrate this milestone in our alliance.  SSC enjoys a special and long partnership with APCSS, where we teach leaders strategic thought.  This MOU empowers us to continue our important work for future generations," said Major General Taksin.
"It is an honor to travel from Hawaii to be here today, in person, to expand our institutional partnership in the field of security practitioner education.  I am excited about what the signing of this MOU signifies for the future of our alliance.  This document will certainly enable new energy and potential to contribute to a safer, more prosperous, and secure Indo-Pacific region." said Director Gumataotao.
The Strategic Studies Center is a Royal Thai Armed Forces institution within the National Defence Studies Institute that teaches strategic thought to the Thai military and government officials.  The center's activities include teaching courses, conducting research and publishing reports, and hosting national and international seminars on emerging national security matters.  It is tasked with enhancing strategies to help resolve national security problems and other related threats.
Founded in 1995, the Daniel K. Inouye Asia-Pacific Center for Security Studies is a U.S. Department of Defense institute that addresses regional and global security issues.  Military and civilian decision-makers, most from U.S. and Asia-Pacific nations, participate in a comprehensive executive education program, professional exchanges, and outreach events in Hawaii and throughout the Asia-Pacific region.  APCSS' mission is to build capacities and communities of interest by educating, connecting, and empowering security practitioners to advance Asia-Pacific security.
2023 marks the 190th anniversary of formal diplomatic relations between the United States and Thailand and seven decades of our security alliance.  The SSC-APCSS MOU for Cooperation is an excellent example of how our countries can work together to ensure we are prepared to address the Indo-Pacific security challenges of the future. In addition, DKI APCSS proudly counts more than 454 Thai security sector professionals as part of its alum network.
We are great friends, partners, and allies.