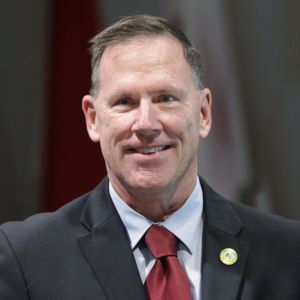 Carleton R. Cramer joined the Asia-Pacific Center for Security Studies in 2004 as a military faculty member.  In 2007, Mr. Cramer retired from the Judge Advocate General's Corps, United States Navy.  During 2007 he served as a civilian faculty member focusing on international law, counter terrorism and maritime security.  In August 2013, he assumed his current position as Dean, College of Security Studies.
Mr. Cramer completed his Bachelor of Arts degree in 1979 at the University of California, Santa Barbara, with majors in history and political science and a minor in economics.  In 1982, he earned his Juris Doctor at the University of the Pacific, McGeorge School of Law.  In 1983, he graduated from the Naval Justice School and in 1993, he earned his Masters of Law from The Judge Advocate General's School, Charlottesville, Virginia.
Mr. Cramer grew up on Kwajalein Atoll, Republic of the Marshall Islands.  His twenty-seven year naval career includes numerous assignments in the Asia Pacific region, including two command tours.  Additional experience in the region includes working for the Supreme Court of Hawaii and for the U.S. Attorney, District of Hawaii.  Mr. Cramer is a member of both the California and Hawaii State Bars.  He is admitted to practice before the U.S. Supreme Court, the U.S. Court of Appeals for the Armed Forces, U.S. Court of Appeals for the 9th Circuit and the U.S. District Court, District of Hawaii.