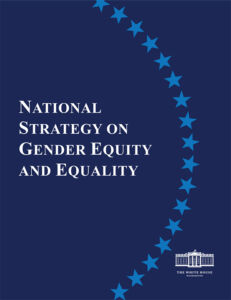 The White House Gender Policy Council led the development of the first-ever National Strategy on Gender Equity and Equality, which sets forth a vision and comprehensive agenda to advance gender equity and equality in domestic and foreign policy.
The strategy identifies ten interconnected priorities:
1) economic security; 2) gender-based violence; 3) health; 4) education; 5) justice and immigration; 6) human rights and equality under the law; 7) security and humanitarian relief; 8) climate change; 9) science and technology; and 10) democracy, participation, and leadership. Through its defense, diplomacy, foreign aid, and trade efforts, the U.S. government will advance the rights and opportunities of women and girls across the world. Factsheet
The U.S. strategy on women, peace and security provides the Defense Department with an internationally recognized path to pursuing long-term security and stability while also demonstrating our commitment to dignity, human rights and equality under the law. At its core, the WPS strategy recognizes the unique effect of conflict on women and girls, as well as the positive influence women have on everything from peace negotiations to managing and minimizing conflict.
WPS Champions: Why and how to advance women's roles in institutional structures and leadership
APCSS Editor
2021-03-04T09:17:24-10:00
Moldova elects its first female President
APCSS Editor
2021-01-04T08:18:23-10:00
U.S. Department of the Air Force's Women, Peace & Security Series
Dr. Minnich on WPS… 
In 2011, the United States published its first National Action Plan on Women, Peace and Security.  In response, the Daniel K. Inouye Asia Pacific Center for Security Studies established a two-point WPS agenda: number one, mainstreaming women's inclusion in its educational program, and number two, integrating WPS in its curriculum. Both are unique endeavors among DOD's regional centers, and both are best practices. Let me briefly address each.
Our first best practice is Mainstreaming Women's Inclusion. Broadly speaking, women's participation rate in military forces ranges between 1% and 20%. For context, women in the U.S. military represent about 17% of the force. Central to DKI APCSS's WPS program has been the imperative to raise female participation rates in our courses. To that end, we established a floor of 25% female participation in our courses in 2012, and then having achieved a female participation rate of 28% in 2018, we raised the floor to 33% (or 1/3d of the class) in 2019. Studies show that representation below 20% typically means that outcomes don't change, but as participation approaches a rate of 1/3rd representation, which is called critical mass, suddenly women's voices are heard and change occurs. I witnessed both ends of this spectrum during a 37-year career in the U.S. Army.
Our second best practice is Integrating a WPS Curricula. Since 2012, DKI APCSS has taught WPS in its courses. Our initial approach was to introduce Fellows to UN Security Council resolution 1325 on WPS and associated legal obligations of member states to advance its principles. No security topic taught at DKI APCSS has been less familiar to faculty and Fellows than WPS. And harder yet, has been for both groups to understand how to integrate its principles to advance better security. To help advance the WPS agenda, DKI APCSS approaches the general curricula, today, through the twin pillars of teaching Gendered Security to all fellows, and facilitating the development of WPS-related Fellow's Projects to self-selecting Fellows.
So, let's look at our 1st pillar of integrating a WPS Curriculum: Gendered security is taught as a methodology to strengthen solutions to state and human security issues through an approach that frames individuals as the focus of security while accounting for gender-based needs and interests of all people in all security situations. Through this, Fellows learn to use a gendered security analysis tool, or analytical framework, to aid thinking by identifying gender-based vulnerabilities, risks, and needs from the impacts of peace, crisis, and conflict. This analysis process considers information (what do we know), raises questions (what does it mean), and develops strategies (what we'll do).
Okay, now let's briefly discuss our 2nd pillar of integrating a WPS curriculum. WPS-related Fellows Projects are highlighted in each long course as faculty-mentors are assigned to facilitate project development and completion.  Some of the Center's most impactful Fellow's Projects were WPS-based. For example, in 2020 a Nepalese security practitioner developed a Gender Action Plan for the Project Coherence Unit at the UN Office for Project Services in Kathmandu. In 2018, Samoa's Ms. Jennifer Key helped draft her country's first National Security Policy. In 2017, Pakistan's Ms. Saira Ali Ahmed developed a Women's Protection Cell and District Women's Support Group to raise awareness and address issues of honor killings. These and many more projects by DKI APCSS Fellows have helped to realize better security in the Indo-Pacific and beyond.
I believe change is happening. As Leaders and other champions for WPS were essential to establishing and achieving these highlighted best practices, it is what will be requisite to advance this work even further. I believe that all who see themselves as security practitioners share duty and necessity to advance this "better security" by enlarging Peace, Prosperity, and Stability through Women, Peace, and Security.
APCSS Editor
Panel presentation Two DKI APCSS faculty recently participated in the U.S. Naval War College's 9th Annual Symposium on Women, Peace, and Security which was held there April 26-28, 2023. Dr. James Minnich [...]
APCSS Editor
DKI APCSS Alumna and New Zealand Amb. Amanda Ellis (TSC 17-1) returned to the Center to visit the Fellows of CSC 22-3. On October [...]
APCSS Editor
"The Education Agenda: Enabling Meaningful Participation of Women in Peace and Security" is the latest Security Nexus paper by Dr. Saira Yamin. This paper [...]
APCSS Editor
Dr. Miemie Byrd's latest article "Women on the Front Lines in Myanmar's Fight for Democracy," was published by the Journal of Indo-Pacific Affairs, on [...]
United Nations Security Council (UNSC) has adopted 10 resolutions that form international policy on Women, Peace and Security. UNSC Resolution 1325 (2000),  1820 (2008),  1888 (2009);  1889 (2009);  1960 (2010); 2106 (2013); 2122 (2013); 2242 (2015); 2467 (2019); 2493 (2019)
WPS National Action Plans in the region: Australia (2021-31), Bangladesh (2019-22), Indonesia (2014-19), Japan (2019-22), Nepal (2011- 16), New Zealand (2015-19), Philippines (2017-22), Republic of Korea (2018-21), Solomon Islands (2017-21), Timor Leste (2016-20) View UN Member States' WPS National Action Plans
United States Women, Peace and Security Act of 2017
View Document
WPS Strategic Frameworks and Implementation Plans
PMESII-PT/GSP4 Gendered Security Analysis Tool by Dr. James M. Minnich.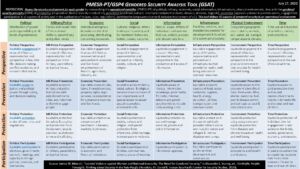 PMESII-PT/GSP4 Gendered Security Analysis Tool (GSAT)
This tool defines 32 aspects of gendered security in an operational environment through a crosswalk of the operation variables of political, military, economic, social, information, infrastructure, physical environment and time with the gendered security principles of gendered perspective, prevention, protection, and participation.
Gendered Security Analysis Tool (GSAT) Worksheet
A gendered security analysis is an analytical framework to aid thinking by identifying gender-based vulnerabilities, risks, and needs from impacts of peace, crisis, and conflict. This process considers information (what do we know?), raises questions (what does it mean?) and develops strategies ("what will we do?).
The GSAT Worksheet frames a three step process of a gendered security analysis. Step 1: View the security environment through a gendered security lens, identifying facts and observations, asking: "What do we know?" Step 2: Make deductions (inferences from facts), inductions (inferences from observations), and abductions (draw probable conclusions), asking "What does it mean?" Step 3: Consider how to approach a designated activity to advance gendered security initiatives, asking: "What will we do?"
Gender Analysis in Strategic Planning by Department of State.
This tool analyzes five domains: (1) Laws, Policies, Regulations, and Institutional Practices, (2) Cultural Norms and Beliefs (3) Gender Roles, Responsibilities and Time Use, (4) Access to and Control over Assets and Resources, and (5) Patterns of Power and Decision-making. Gender Analysis in Strategic Planning by Department of State.
Ms. Jennifer Key (ASC 17-2), Samoa
Assistant CEO of the Policy Division at the Ministry of the Prime Minister and Cabinet. Ms. Key helped draft Samoa's first National Security Policy. She was Awarded DKI APCSS 2018 Alumnus off the Year Award based on the significance of her achievement and for the impact of this project, not only for Samoa, but also for the positive influence it had on other Oceania countries intent on creating their own national security policy.
Ms. Saira Ali Ahmed (ASC 17-1), Pakistan
Women's Rights in Sindh: Mighty Obstacles and Slow Progress.
 Ms. Ahmed brought awareness to the issue of Honor Killings in Pakistan. She developed a Women's Protection Cell and a District Women's Support Group, comprised of members of government, lawyers, police officers, and others to assist gender-based violence survivors with legal help to seek justice. Many forums were organized to bring awareness and seek assistance in addressing issues of human rights and sexual harassment. Ahmed was awarded the Women of Excellency Award from Pakistan's National Assembly in December 2017 and the DKI APCSS 2017 Alumnus of the Year Award. She addressed the Fellows of ASC 18-1 on her accomplishments.
Ms. Aye May (ASC 14-3), Myanmar. Northern Shan State Women Organization Network (NSSWON).
In 2018, the NSSWON successfully conducted a historic workshop to improve civil-military relations in Myanmar.  This was the first time a local ethnic minority NGO was permitted to discuss Myanmar's democratic transition process.  Funded by USAID, the event was officially authorized and registered with the assistance of the Myanmar DKI APCSS alumni network.  Four DKI APCSS alumni also served as speakers and facilitators.  Over 100 women from 11 different ethnic minority groups attended the event.  The participants developed realistic action plans and specific activities they could implement to develop common understanding and build trust between their ethnic communities and the local military and militia units operating in their areas.
Ms. Hawwa Abdul Raheem (ASC 17-2), Maldives.
Role of Women in Countering Violent extremism.
Violent extremism has emerged as a pressing issue in the security environment in the Maldives in recent years, increasingly undermining societal harmony through the spread of divisive religious ideologies. A new approach by extremist actors has targeted women as facilitators, recruiters, and moral supporters of men fighting on the front lines. Recognizing the significance of this threat, Expert Lecturer at the College of Defense and Security Studies, Ms. Hawwa Abdul Raheem, developed a curriculum on the role of women in countering extremism as part of her Fellows Project. With the assistance of the Maldives National Counter-Terrorism Center (NCTC), she has conducted several successful awareness programs in selected atolls and the capital Male.
Colonel Michel Abdo (CCM 12-1), Lebanon.
Integration of Female Border Security Guards.
The border between Syria and Lebanon has been notoriously porous and has seen a steady flow of Syrians escaping the war. These included refugees – children, women and men – as well as armed actors, in some cases disguised as women. Effective governance mechanisms in the border areas have been key to determining Lebanon's stability. While deployed at the border, Colonel Michel Abdo, played a critical role in protecting communities escaping the violence in Syria while also keeping a check on the flow of transnational armed groups. His APCSS Fellows Project was a pioneering effort to recruit female border guards to advance these efforts.
Ms. Daniela Sepúlveda Soto (ASC 17-1), Chile.
National Action Plan on Women, Peace and Security.
Chile was amongst the first countries to develop a National Action Plan (NAP) aligned with United Nations Security Council Resolution 1325 on Women, Peace, and Security and has since produced two documents. The first NAP, published in 2009, was a formal adherence document to the UN resolution. The second NAP, launched in 2015, focussed on the participation of women in international peace processes. Ms. Daniela Sepúlveda Soto developed a Fellows Project proposing a Third Generation Plan, incorporating elements for greater sustainability and efficiency in the National Plan Action Plan using a systematic implementation guide for application in Peacekeeping Operations. As Head of Department of South, Central America and the Caribbean, International Relations Division, Ministry of National Defense of Chile, Ms. Soto's recommendations have been officially proposed to the Interministerial Table for Resolution 1325 of Chile, made up of the Ministry of Foreign Affairs, the Ministry of National Defense, the Ministry of Public Security and the Ministry of Women.
Ms. Chandra Hada (CCM 13-1), Nepal. Disaster Risk Reduction for Vulnerable Communities in Eastern Nepal.
Following the 2011 earthquake in Nepal where many buildings and schools were damaged, the project aimed at building community resiliency through earthquake preparedness training and building earthquake-resistant schools for a safe and secure educational environment.  Beneficiaries of this project included the students, girls and boys, and staff –  both female and male in two districts where the earthquake had damaged 597 school buildings.
Course Enrollment Trends for Women
For more information on the DKI APCSS WPS program, contact us: