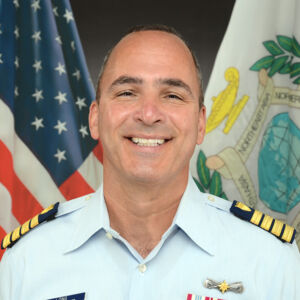 Captain Michael Long joined the Asia-Pacific Center for Security Studies in July 2021 as a military faculty member.
He was Commander of Sector Honolulu where he led Coast Guard missions throughout the Hawaiian Islands and American Samoa.
CAPT Long's other operational assignments include Deputy Commander of Sector Miami, Senior Defense Official / Defense Attaché at the US Embassy to Barbados and the Eastern Caribbean, Response Department Head and Search and Rescue Mission Coordinator at Sector Puget Sound, Port Operations at Marine Safety Office New Orleans, and Assistant Operations Officer at the Gulf Strike Team.
His staff tours include serving as the Coast Guard Liaison Officer to US Indo-Pacific Command, Assistant Director of the Coast Guard's International Port Security Program, Executive Assistant to the Coast Guard's Director of Port Security, and Duty Officer at the National Response Center.
CAPT Long is a graduate of Coast Guard Officer Candidate School. He has a Bachelor of Science Degree in Environmental Resource Management and Planning from the University of West Florida and earned a Master in Public Administration from Florida State University