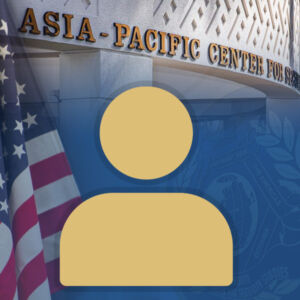 Mary Markovinovic has been the chief of public affairs for the Daniel K. Inouye Asia-Pacific Center for Security Studies since May 2005. In this position, she manages DKI APCSS' public affairs program and also serves as an adjunct professor lecturing on topics such as media relations, strategic/crisis communications, synthetic media, and the information environment. She leads the new Information and Security concentration held in conjunction with the Comprehensive Security Cooperation course.
A graduate of the University of San Diego, she began her career as an editor at the Naval Supply Center, San Diego, in 1986. One year later, after attending the Defense Information School, she was promoted to Public Affairs Officer and remained there during its transition to the Fleet and Industrial Supply Center, San Diego. As PAO, she was responsible for PA support for contracting and logistics operations, including developing the first customer-based website for a Navy Supply Center. Also, she coordinated a major community relations program in support of a major Navy fuel pipeline replacement project that ran through the city of San Diego.
In 1998, she transferred to Navy Region Southwest to be the Public Affairs Program Manager, responsible for public affairs operations for Navy shore installations in California and Nevada. She streamlined public affairs operations under the regionalization program and coordinated responses related to A76 contracting. In addition, she was the emergency operations center PA rep during both drills and real-life emergencies and major community relations projects such as the Navy Broadway Redevelopment.
Ms. Markovinovic moved to Hawaii in 2003, taking a position as the chief of media relations for the U.S. Army, Pacific (USARPAC), where she worked on issues such as the Stryker Brigade deployment, Operation Iraqi Freedom (OIF) and Operation Enduring Freedom (OEF), Pacific Armies Management Seminar, and the Army Transformation in the Pacific.