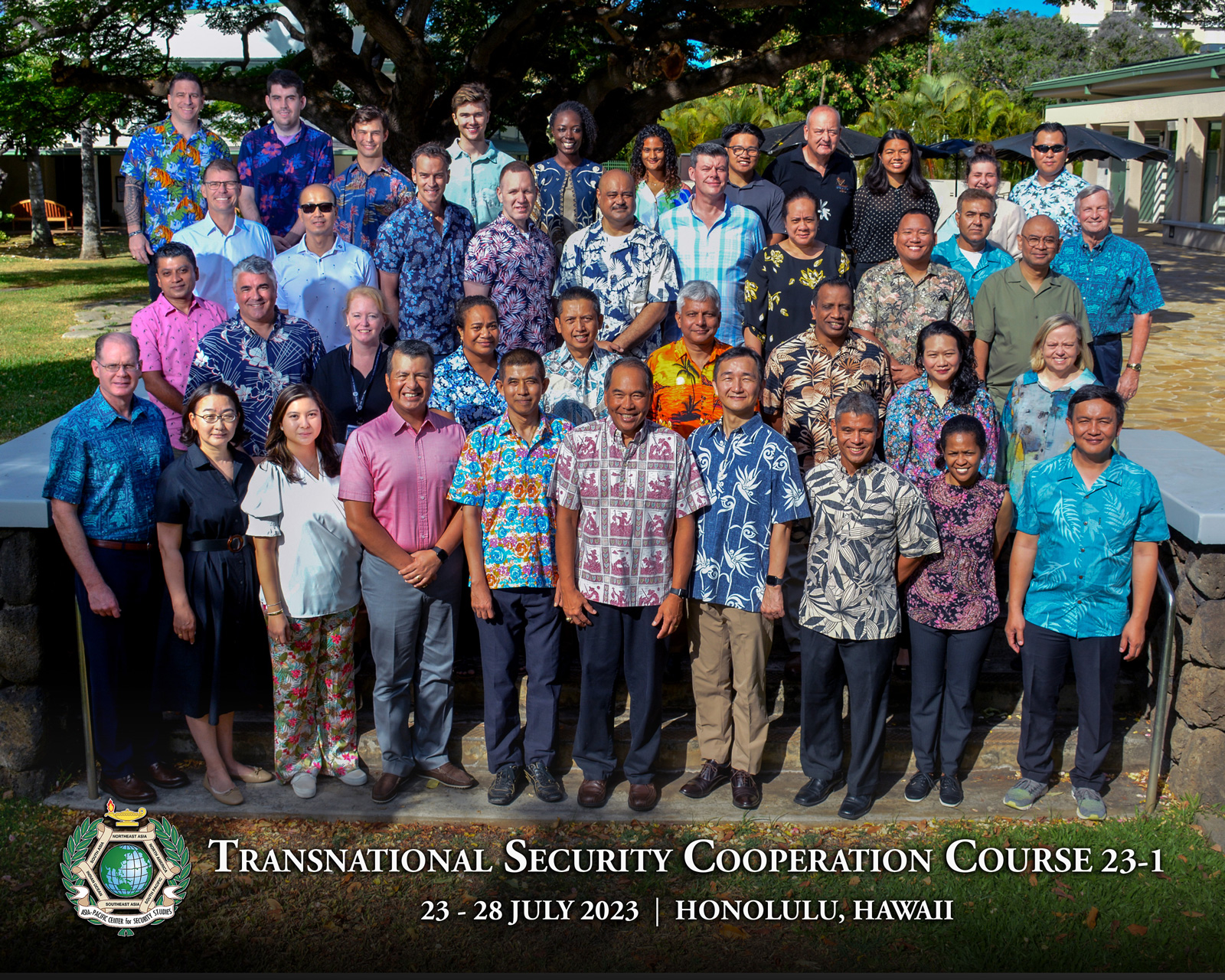 The Daniel K. Inouye Asia-Pacific Center for Security Studies (DKI APCSS) brought together senior-level security practitioners from more than 20 countries to explore transnational security issues and emerging challenges in the Indo-Pacific region.
DKI APCSS professor Dr. Jeremiah Lumbaca and U.S. Navy Capt. Henry Saito led the group from June 23-28. The 27 participants engaged in discussions on topics such as economics, strategic competition, maritime security, space security, and cybersecurity. A tabletop exercise simulated a real-world crisis, allowing the Fellows to apply their knowledge strategically and engage in role-playing.
One lecture on the information environment in the Indo-Pacific region was particularly engaging. Brian Finlay, president and CEO of the Stimson Center, expressed surprise at the resonance the topic had with participants.
"When it came to misinformation and disinformation, I was really surprised," Finlay said. "To see the participants' eyes light up as they clearly identified with the challenges that arise from misinformation and disinformation, I didn't think it would resonate as much as it did."
A June 20 visit to U.S. Indo-Pacific Command headquarters provided the Fellows with insights into how the U.S. military seeks to deter regional conflict. For Nicole Bacolod, director of the Office of Financial Management for the Philippines Department of National Defense, the experience alleviated some fears about military conflict in the region.
"We always fear what we do not know," Bacalog said. "But with education and the knowledge that I got [in TSC], it makes you fear less because you know that the leaders in this area know what they're doing. They don't want war. Everyone wants peace."
The course also sparked transformative discussions among the Fellows. U.S. Army Brig. Gen. Lance Okamura, director of strategic engagements for Joint Task Force-Red Hill, noted that engaging with experienced senior Fellows from other countries shifted his perspective.
"Engaging with brilliant senior Fellows from other countries who have a lot of experience can change your mind within four days," Okamura said. "I learned that each nation has its own asymmetric concerns outside of traditional military conflict. Whether it be crime or violent extremism, they are constantly inundated with threats that aren't considered traditional."
This iteration of TSC featured break-out sessions where the Fellows brainstormed ideas to enhance alliance and partnership building between countries, drawing on previous DKI APCSS workshops, including "Alliances, Partnerships, and Architecture" and "Maluhia 2023." Several Fellows advocated for a security approach that prioritizes human security issues such as food education, infrastructure development, environmental concerns, and fostering trust between nations.
The course also offered participants a chance to learn about Hawaiian culture through traditional Hawaiian ole chants and a tour of the center's native Hawaiian plants. The TSC course provides a comprehensive and enriching experience for senior security practitioners from the Indo-Pacific region and beyond. For more information about the course, visit the TSC webpage