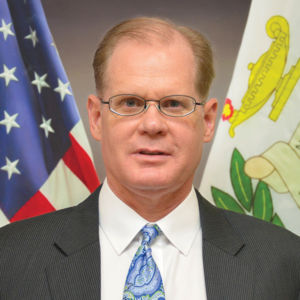 Wade Turvold joined the Asia-Pacific Center for Security Studies in June 2019 after a 30 year career in the U.S. Navy. He was privileged to serve in two educational assignments during this time, as the U.S. Navy Senior Service Representative and Director National Security Studies at the U.S. Army War College, and the U.S. Navy Exchange Directing Staff at the Joint Services Command and Staff College, Defence Academy of the United Kingdom in Shrivenham, England.
He served as a Naval Flight Officer during his career and has extensive experience flying P-3C and P-8A aircraft. Mr. Turvold commanded Patrol Squadron FOUR in Kaneohe Bay, Hawaii, and commanded Air Test and Evaluation Squadron ONE in Patuxent River, Maryland. His flying assignments, in addition to command, were in Patrol Squadron FORTY SEVEN in Kaneohe Bay, Hawaii, in Patrol Squadron THIRTY in Jacksonville, Florida (two tours), and in Patrol Squadron SIX and Patrol Squadron NINE, both in Barbers Point, Hawaii. He also served as Officer in Charge of the Maritime Patrol and Reconnaissance Weapons Tactics Unit in Jacksonville, Florida.
His staff assignments were as Air Anti Submarine Operations Officer on the United States SIXTH Fleet staff embarked in USS LASALLE in Gaeta, Italy, and as Deputy Chief of Staff for Operations at Patrol and Reconnaissance Force, United States SEVENTH Fleet in Misawa, Japan.
Mr. Turvold graduated with Merit from the U.S. Naval Academy in Annapolis, Maryland, in 1989 where he earned a Bachelor of Science Degree. He graduated with Distinction from the U.S. Naval War College in Newport, Rhode Island, in 2000 where he earned a Master of Arts degree.
He completed numerous deployments throughout his career to the Indo-Pacific region, the Middle East, and to Europe. Mr. Turvold participated in combat operations in Somalia, Kosovo, Iraq, Afghanistan and the Philippines. Mr. Turvold served in a faculty position prior to becoming the Dean of Admissions and Business operations.
Mr. Turvold's Publications: