Bridging Space Innovation Opportunities: Perspectives on Asia-Pacific Experiences
Recent years have witnessed a dramatic shift in the center of gravity in space innovation. Once mainly the province of state-related actors, innovation is now increasingly led by commercial space, often in close connection with civil and military space partners. While this is a process already underway in leading space nations, in the Asia-Pacific, momentum in this direction remains mixed. Space industrial bases vary considerably across the region, and so too do the relationships among civil, military and commercial space sectors. Regulatory and institutional patterns also diverge widely, and in some cases, tend to lag developments in advanced space nations.
This webinar will begin with keynote remarks from a representative from US Space Command, followed by a panel that examines the current state of space innovation across the region, including the rise of commercial actors in the sector and the different experiences of developing relationships, institutions and regulatory frameworks to facilitate collaborative space innovation across sectors and players. Confirmed speakers include Malcolm Davis (Australian Strategic Policy Institute), Namrata Goswami (Independent Senior Analyst), Kristi Govella (University of Hawaii at Manoa), Al Oehlers (Daniel K. Inouye Asia-Pacific Center for Security Studies), Crystal Pryor (Pacific Forum), and Sam Wilson (The Aerospace Corporation)
This webinar is an official side event of the Asia-Pacific Regional Space Agency Forum annual meeting. It is co-organized by the University of Hawaii at Manoa Center for Indo-Pacific Affairs, the Daniel K. Inouye Asia-Pacific Center for Security Studies, and Pacific Forum.
Date/Time – Location
Hawaii – Nov 21, 2022  3pm
Washington DC – Nov 21, 2022 8pm
Tokyo – Nov 22, 2022 – 10am
Register at: https://hawaii.zoom.us/webinar/register/WN_Hlb0iSZyRlm6SQZVTgldAg
Technological Innovation and Arctic Climate Security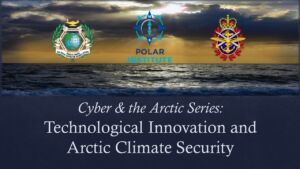 The Daniel K. Inouye Asia Pacific Center for Security Studies, Canadian Armed Forces, and Wilson Center Polar Institute present the event "Technological Innovation and Arctic Climate Security" for a discussion about the intersection between technology and the cryosphere (i.e., the frozen parts of the earth). Ms. Marisol Maddox will frame the Arctic climate security problem set to illuminate the critical issues. Dr. Kimberley Miner with discuss risks and impacts from cryosphere degradation. Ms. Leslie Canavera will describe examples of how we can use a blend of indigenous knowledge and western data with specialized artificial intelligence and machine learning algorithms to forecast climate change and translate knowledge into action.
Wednesday
Nov. 30, 2022
3:00pm – 4:30pm ET
registration at: https://apcss.zoomgov.com/webinar/register/WN_461AHq-9Q8alC2cFmYHchA