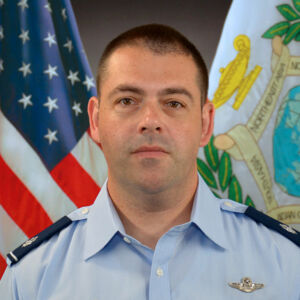 Lucas Crouch joined the Asia-Pacific Center for Security Studies in July 2023 as a Military Professor in the College of Security Studies after ​embedding with the Japan Air Self Defense Force 401st Tactical Airlift Squadron as a C-130H Exchange Pilot and Officer under the Military Personnel Exchange Program Indo-Pacific, Secretary of the Air Force-International Affairs. This was a selectively manned, bilingual position responsible for integration with the Japan Self-Defense Force, providing guidance and expertise in the tactical employment of the C-130H. He is an Indo-Pacific-focused Foreign Area Officer, fluent in Japanese.​
Prior to his exchange assignment and becoming a Foreign Area Officer, Lt. Col. Crouch was the Chief of the 374th Airlift Wing Command Post and 5th Air Force Command Center, Yokota AB, Japan. As a C-130E/H Aircraft Commander and Instructor Pilot during two tours attached to the 374th Airlift Wing, Yokota AB, Japan, he has participated in numerous operations and exercises over several deployments, including Operations IRAQI and ENDURING FREEDOM, COPE SOUTH, COPE TIGER, COPE TAUFAN, BALIKATAN, Operation CHRISTMAS DROP, and Philippines disaster relief Operation DAMAYAN. He has also served as a T-1A Joint Undergraduate Pilot Training Instructor 47th Flying Training Wing, Laughlin AFB, Texas. ​
Lt. Col. Crouch holds a BS in Communication from Embry-Riddle Aeronautical University-Daytona Beach, MA in Political Science from American Military University, and an AA in Japanese Language from the Defense Language Institute. His decorations include the Humanitarian Service Medal, NATO Non-Article 5 Medal, Meritorious Service Medal (3), Air Medal (3), Joint Service Commendation Medal, Air and Space Commendation Medal (2), and Air and Space Achievement Medal. He is a Command Pilot with over 3,900 hours and has flown the T-6A, TC-12B, T-1A, and C-130E/H.