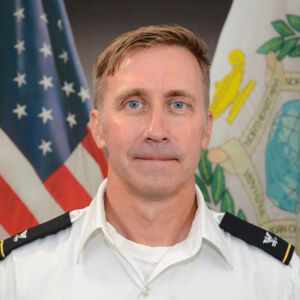 Colonel Matthew Kent came to the Daniel K. Inouye Asia-Pacific Center for Security Studies in September 2022 following his three-year tour as the Chief of the Liaison Affairs Section at the American Institute in Taiwan-Taipei.
In 1996, Col. Kent was commissioned  as an Army Infantry officer. Upon completion of training, he served a tour in the 1-506th Infantry Battalion located in Korea and as a Basic Training Executive Officer (XO) in 2-54th Infantry Battalion and then later with 3-47th Infantry Battalion both located at Fort Benning, Georgia. In 2001, COL Kent completed Special Forces training and served as a commander of a Special Forces Operational Detachment-Alpha (SFOD-A) and was a company XO in 2nd Battalion, 1st Special Forces Group. In 2004, he was assessed into the Foreign Area Officer (FAO) Branch with a regional specialty of China. His subsequent assignments have sent him to China to study, to Iraq as a combat advisor, and to NATO Rapid Deployable Corps (NRDC) Spain as a G-5 Planner. Col. Kent served as the Senior Defense Official/Defense Attaché (SDO/DATT) in Laos from 2012-2015 and Mongolia from 2015-2017. He also served at Special Operations Command Pacific as Deputy Chief of Plans and Strategy and as the Commander's Action Group Chief from 2017-2019 prior to moving to Taiwan.
His military education includes the Infantry Officer Basic Course, Ranger School, Airborne School, Air Assault School, Infantry Captains' Career Course, Combined Arms and Services Staff School, Special Forces Officer Qualification Course, SERE, Jumpmaster, Intermediate Level Education (ILE), Joint Combined Warfare School (JCWS/JPME-II), the NATO Planners Course, and the Joint Military Attaché School.  Col. Kent has also been trained by the military in the Chinese Mandarin and Thai languages. His civilian education includes a Bachelor of Science in Geological Engineering from Colorado School of Mines and a Master of Arts in Security Studies from Georgetown University.
Some of Col. Kent's military awards and decorations include the Defense Superior Service Medal, the Bronze Star Medal, the Defense Meritorious Service Medal, the Army Meritorious Service Medal, the Special Forces Tab, the Ranger Tab, the Senior Parachutist Badge, the Expert Infantryman's Badge, and foreign parachutist badges from Thailand and Venezuela.