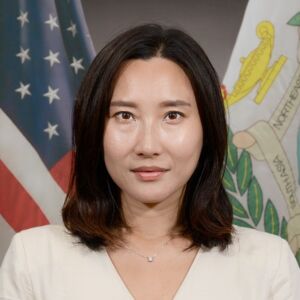 Lami Kim joined the Daniel K. Inouye Asia-Pacific Center for Security Studies in June 2023. Her research interests are nuclear, emerging technologies and international security, and security issues in East Asia. Her work has appeared in The Washington Quarterly, Global Governance, Bulletin of the Atomic Scientists, War on the Rocks, Belfer Center for Science and International Affairs, the Woodrow Wilson International Center for Scholars, the National Bureau of Asian Research, Routledge, the National Interest, and the Diplomat. She has also provided commentaries regarding Asian security affairs to media outlets, such as the Washington Post, Wall Street Journal, Newsweek, Time magazine, BBC, Al-Jazeera, LA Times, Center for a New American Security, and Carnegie Endowment of International Peace, among others.
Until recently, she served as an Associate Professor and Director of the Asian Studies Program in the Department of National Security and Strategy at the U.S. Army War College. Prior to that, she served as a research fellow at Harvard's Belfer Center, the Wilson Center, Pacific Forum, and the Stimson Center; as a member of the Mid-career Nuclear Cadre, a Nuclear Scholar, a Security and Statecraft Fellow, and a US-Korea NextGen Scholar at the Center for Strategic and International Studies; as a Visiting Scholar at the George Washington Institute for Korean Studies; as a Mansfield-Luce Asia Scholar; as a Visiting Fellow at the East-West Center in Washington; as a Visiting Fellow at Seoul National University; and also as a South Korean diplomat. She has taught at Harvard University, Boston College, and the University of Hong Kong.
She holds a Ph.D. from the Fletcher School of Law and Diplomacy at Tufts University and a master's degree from Harvard University.