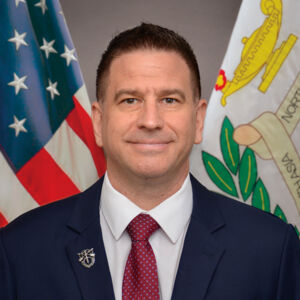 Dr. Jeremiah "Lumpy" Lumbaca, U.S. Army Special Forces Lieutenant Colonel (Retired), joined the Daniel K. Inouye Asia-Pacific Center for Security Studies in 2019. ​
Prior to his arrival at the Center, Lumpy served for over twenty years on Active Duty in various positions throughout the U.S. Special Operations Forces (SOF) community with primary emphasis on the Indo-Pacific Region. He commanded Green Berets at various levels while living and operating in nearly every country throughout North, South, and Southeast Asia. He served in Operation Iraqi Freedom (OIF), Operation Enduring Freedom – Philippines (OEF-P), and was involved in numerous other combat, operational, diplomatic, and inter-agency initiatives on behalf of the U.S. Government.
Lumpy was commissioned in the Army at Norwich University where he graduated summa cum laude and Distinguished Military Graduate (DMG) with a Bachelor of Arts in International Studies. He earned his Master of Science in Defense Analysis (Irregular Warfare) from the Naval Postgraduate School. He earned his PhD in Public Policy (National Security) from the Helms School of Government at Liberty University with research focused on Irregular Competition.
He is a graduate of the Special Forces Qualification Course (Distinguished Honor Graduate), Airborne, Ranger, Jumpmaster, S.E.R.E. (Level C – High Risk), U.S. Army Command & General Staff College, Joint Forces Staff College, Infantry Officer Basic Course, Infantry Officer Advanced Course, Combined Arms and Services Staff School (CAS3), DoD foreign language training and immersion (several locations), USAID/OFDA Joint Humanitarian Operations Course (JHOC), DoD Humanitarian Assistance Response Training (HART) course, the Indian Army's Junior Command course, and the DKI APCSS Advanced Security Cooperation (ASC) Course, among others. He is a Joint Qualified Officer (3A and 3L), fluent in Thai (3/3), and has earned numerous U.S. and foreign military decorations, badges, and awards.
Lumpy's Publication Links