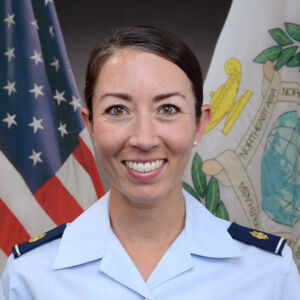 Major Jennifer "Maggie" Matthews joined the Daniel K. Inouye Asia-Pacific Center for Security Studies in June 2023 as a military fellow following her tour at the Pentagon, where she served as the Military Assistant to the Administrative Assistant to the Secretary of the Air Force.
A native of Fayetteville, North Carolina, she entered the U.S. Air Force in 2009 and reported to her first duty assignment in Misawa, Japan, where she served as the Deputy Commander for the Community Services Flight, the Officer-in-Charge for Civilian Personnel and finished her tour as the Deputy Commander for the Airman and Family Services Flight supporting the 35th Fighter Wing. During her assignment, she​ conducted Emergency Operations to support Operation Tomodachi following the 2011 earthquake and subsequent tsunami in Northern Japan.
In 2011, Major Matthews reported to Moody Air Force Base, Georgia, where she was the officer-in-charge of military personnel and sustainment services supporting the 23d​ Wing's Fighter and Rescue Missions and the 93d Air Ground Operations Wing. During her time at Moody Air Force Base, Major Matthews deployed to the Air Force​ Mortuary Affairs Operation as the Dignified Transfer Officer-in-Charge in 2013.
Following her assignment to Moody Air Force​ Base, she served as the 96th Mission Support Group Executive Officer, the Force Support Squadron's Officer-in-Charge for Standards and Evaluation, and the 96th Test Wing's executive officer, providing commander priorities to 7 groups throughout nine operating locations at the Department of Defense's largest installation and Major Range and Test Facility Base. Finally, her tour at Eglin culminated in her selection as the Operations Officer for Eglin's largest and most​ diverse squadron, supporting 64,300 members from six major commands and serving as the installation's primary mortuary officer.
In 2020, Major Matthews served as the​ Chief of Strategy and Integration for the United States Air Force's Services Directorate at Headquarters Air Force, supporting​ Department-wide policy and writing a 5-year strategic plan to increase services to Airmen, Guardians, and Families.
Major Matthews holds a Master of Arts in Management from the University of Maryland University College. She also has a Bachelor of Science in Communication with a minor in Aerospace Studies from North Carolina State University.