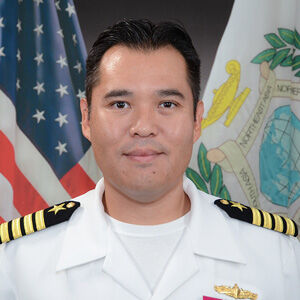 Captain Henry Saito joined the Daniel K. Inouye Asia-Pacific Center for Security Studies in July 2022 as a military faculty member.
Captain Saito is a native of California and was commissioned in the Navy as a Surface Warfare Officer.  He later transitioned duties to become an Indo-Pacific Foreign Area Officer and has spent over a decade supporting Asia-Pacific efforts.
At sea, Captain Saito served on board USS Oldendorf (DD 972) as the Damage Control Assistant; USS Antietam (CG 54) as the Weapons and Combat Systems Officer; and at Destroyer Squadron 9 as the Assistant Training, Readiness, and Operations Officer.  During these tours, he participated in operations Unified Assistance and Enduring Freedom and conducted overseas deployments to the Middle East, Indian Ocean, Eastern Pacific, and Western Pacific.
Ashore, Captain Saito served as the Director of Operations at the Joint U.S. Military Affairs Group-Korea (JUSMAG-K) in Seoul, Republic of Korea; Policy and Force Posture planner at U.S. Indo-Pacific Command (INDOPACOM); Naval Programs Director at the Mutual Defense Assistance Office (MDAO) in Tokyo, Japan; and INDOPACOM Division Director at the Navy International Programs Office.
Captain Saito holds a Master of Arts degree in National Security Affairs (Middle East) from the Naval Postgraduate School and a Bachelor of Arts degree in Political Science from the University of California, San Diego.
His military decorations include the Legion of Merit, Defense Meritorious Service Medal (with two bronze oak leaves), Joint Service Commendation Medal, Navy Commendation Medal (with gold star), Joint Service Achievement Medal (with bronze oak leaf), Navy Achievement Medal, in addition to a variety of unit and service awards. Captain Saito maintains professional fluency in Japanese.