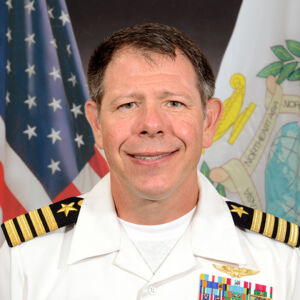 Captain Joshua P. Taylor came to the Daniel K. Inouye Asia-Pacific Center for Security Studies in December 2022 following his tour as South Asia Division Chief at U.S. Indo-Pacific Command.
Captain Taylor is an Indo-Pacific Foreign Area Officer (FAO) native of Mahwah, New Jersey. He graduated from the United States Naval Academy in 1997, receiving a Bachelor of Science in History. He holds Master of Arts degrees in Organizational Management from George Washington University and Diplomacy and Military Studies from Hawaii Pacific University. He is a Naval War College and Joint/Combined Warfighting School graduate. He was a Federal Executive Fellow at the Center for Strategic & International Studies (CSIS) and the U.S. Naval Institute (USNI).
Taylor served his aviation tours as an Electronic Countermeasures Officer, completing numerous deployments to the Middle East in support of Operations NORTHERN WATCH, SOUTHERN WATCH, ENDURING FREEDOM, and IRAQI FREEDOM with Electronic Attack Squadron (VAQ) 128, USS JOHN C. STENNIS (CVN 74), and VAQ-131.
Ashore, his assignments include internships with the Joint Staff, OPNAV, and Navy Senate Liaison Office; Legislative Affairs Officer at U.S. Pacific Command; and Executive Assistant to Director, Maritime Headquarters, U.S. Pacific Fleet.
As a FAO, Taylor served at the U.S. Embassy in Kuala Lumpur as the Deputy Chief of the Office of Defense Cooperation Malaysia, as the U.S. Pacific Fleet's Head of International Plans & Policy (N51), and as the Navy FAO Community's Indo-Pacific Regional Lead.
Taylor flew over 80 combat missions in the EA-6B Prowler; is Security Cooperation Workforce Level 2-certified; is a proven South Asia, Far East, and Pacific specialist; and conversant in Malaysian, Indonesian, and French. His awards include the Defense Superior Service Medal, Defense Meritorious Service Medal (2), Meritorious Service Medal, Strike/Flight Air Medal (4), Air Force Aerial Achievement Medal, and various unit and campaign awards.