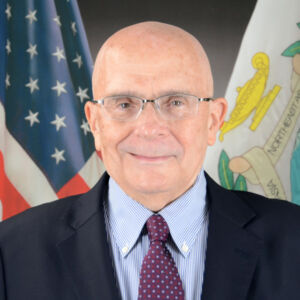 Dr. Richard R. Vuylsteke joined the Daniel K. Inouye Asia Pacific Center for Security Studies as a Professor on the faculty in January 2022 after serving five years in Honolulu as President of the East-West Center.
During his career, he has worked in seven different professional sectors: military, academia, think tanks, government, international journalism, editing and publishing, and business organization and not-for-profit NGO leadership.
Before returning to Hawaii in 2017, he spent 30 years working in Asia, the last 18 years as President of American Chambers of Commerce, first in Taiwan and then in Hong Kong. He has wide travel experience in the Indo-Pacific, often as a guest lecturer, conference participant, and leader of delegations to meet with senior government, business, and academic leaders in the region, including Japan, Korea, Mongolia, China, Vietnam, Cambodia, Thailand, and Myanmar.
He has long been involved as an academic and practitioner in Asia, including being Area Studies Coordinator at the US Department of State Foreign Service Institute Chinese Language and Area Studies School in Taipei, a research fellow in East Asian Legal Studies at Harvard Law School, and a Fulbright scholar at the University of Rajasthan, India.
Originally from Illinois and a Phi Beta Kappa graduate of Illinois College, he earned MA and PhD degrees from the University of Hawaiʻi at Mānoa, specializing in Western and Chinese political philosophy.
Prior to graduate school, he enlisted in the US Army, graduated from the Infantry School at Ft. Benning, and was commissioned in Intelligence. He served in Hawaiʻi at the US Army Pacific Command (USARPAC) as chief of the China Desk and was later seconded to CINCPAC (now INDOPACOM) as chief of the Soviet Far East Desk. Both positions further stimulated lifetime interests in China, Mongolia, the Russian Far East, and their social, political, economic, and military impacts in the region.