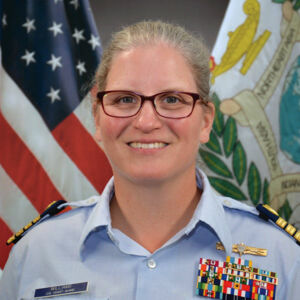 Captain Erin Williams joined the Daniel K. Inouye Asia-Pacific Center for Security Studies in July 2023 as a Military Professor. A native of Kansas, she joined the U.S. Coast Guard in 1994 and is a 1998 graduate of the U.S. Coast Guard Academy in New London, Connecticut. She earned her Master of Arts in Educational Technology from San Diego State University in 2005.
Her previous assignment was as Commanding Officer of Activities Far East in Tokyo, Japan, where she was responsible for securing the U.S. Marine Transportation System and strengthening global maritime governance in the Indo-Pacific via regulatory oversight of U.S. commercial and national security vessels and foreign port security engagements across the region.
Prior to Activities Far East, she served as Training Director at the Coast Guard's Leadership Development Center in New London, Connecticut, where she led the creation, maintenance, and delivery of more than 20 courses and three officer accession programs. As the Commanding Officer of Marine Safety Unit Duluth, Minnesota, from 2016-19, she fulfilled regulatory authorities as the Captain of the Port, Federal On-Scene Coordinator, and Officer in Charge, Marine Inspection, leading Coast Guard missions on Western Lake Superior and across 700 miles of international border with Canada. From 2014 to 2016, she served as the Executive Officer of Activities Europe in the Netherlands. She acted as the Commanding Officer's direct representative with a mission similar to Activities Far East but spanning Europe, Africa, and the Middle East.
In 2012, Captain Williams reported to the International Maritime Organization's World Maritime University in Malmö, Sweden as the Coast Guard Liaison Officer. During this tour, she instructed maritime affairs graduate students from over 65 countries and liaised with multiple international organizations and foreign governments on global maritime issues. Other assignments include Executive Officer of Marine Safety Unit Valdez, Alaska; Chief of Waterways Management and Assistant Chief of Inspections at Marine Safety Office San Diego, California; Training Analyst in the Office of Performance, Training and Workforce Development at Coast Guard Headquarters in Washington, D.C.; and Assistant Engineer Officer aboard CGC HAMILTON (WHEC 715).
Captain Williams was the Coast Guard's 2022 Peace with Women Fellow to the Halifax International Security Forum and is also the former Chair of the Coast Guard Women's Leadership Initiative, a program supporting retention and professional development of women in the Coast Guard. Her military decorations include the Defense Superior Service Medal, two Coast Guard Meritorious Service Medals, five Coast Guard Commendation Medals, and other personal, unit, and campaign awards.