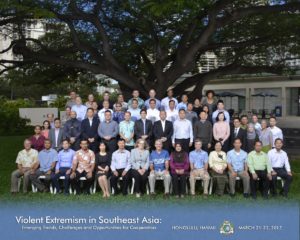 HONOLULU–Following an invitation by then Secretary of Defense, Mr. Ashton Carter, at the U.S.-ASEAN Informal in Hawaii last September, the Daniel K. Inouye Asia-Pacific Center for Security Studies hosted a workshop titled, "Violent Extremism in Southeast Asia: Emerging Trends, Challenges and Opportunities for Cooperation," in Honolulu, March 21-23.
Forty-One participants from 10 Southeast Asian nations and the United States attended the workshop.  Speakers from international organizations and think-tanks also contributed to proceedings. Participants came from:   Brunei, Cambodia, Indonesia, Laos, Malaysia, Myanmar, Philippines, Singapore, Thailand, the United States of America, and Vietnam.
According to DKI APCSS associate professor Shyam Tekwani, "The workshop provided an opportunity for frank and candid discussions on the most urgent violent extremist trends and challenges now facing Southeast Asian nations.  It also identified urgent priorities in cooperative and collaborative actions to counter these challenges. "
"In the spirit of transparency, mutual respect, and inclusion, participants recognized a diversity of perspectives relating to these trends and challenges, reflecting specific national characteristics and threat perceptions," said Tekwani. "Though such differences in perspective are important, participants expressed consensus that enhanced regional cooperation remains critical to any attempt to address these challenges."
Participants discussed the following crucial trends and challenges in violent extremism in Southeast Asia:
Evolving allegiances, alliances and extremist networking
Radicalization and counter-radicalization
The crime-extremism nexus
Women, children and the future of ISIS
The durability of extremist ideologies
In discussions, participants identified a broad range of potential cooperative and collaborative priorities in Southeast Asia to enhance regional cooperation against violent extremist movements.  Subsequent refinement of these priorities identified five, in particular, as highly significant:
Developing a harmonized counterterrorism  legal framework and operational procedures;
Developing and/or leveraging institutionalized regional networks  (including, for example, a Fusion Center) to strengthen information sharing and interoperability;
Developing a shared threat or vulnerability assessment and awareness across multiple domains (for example, maritime, cyber, etc.);
Strengthening the commitment and will to fully implement and enforce existing  agreements and frameworks relevant to countering violent extremism; and
Strengthening and/or developing minilateral (for example, trilateral or quadrilateral) processes for coordination and cooperation among nations.
Participants noted the following priorities were also discussed, and deserving of specific mention:
Developing a shared regional counter narrative against radicalization and violent extremism;
Developing and/or leveraging regional forums that focus on whole of society approaches, particularly to strengthen community resiliency and interfaith dialogue;
Developing a shared regional messaging  platform against radicalization and violent extremism; and
Working more closely with the private sector, non-governmental organizations, and other civil society actors.
"It was very encouraging to observe the genuine cooperation among all of the participating Nations and Organizations as they worked diligently to find ways and means to collaborate on how to address the cause and effects of Violent Extremism the South East Asia region," explained DKI APCSS Director Maj. Gen. James S. "Hammer" Hartsell, who opened the workshop.
Participants acknowledged the value of continued discussions and recommended sustained interactions within the network established by this workshop to further cooperation in the region and in relation to the priorities discussed.
For more photos of this workshop, visit DKI APCSS on Facebook.
-END-