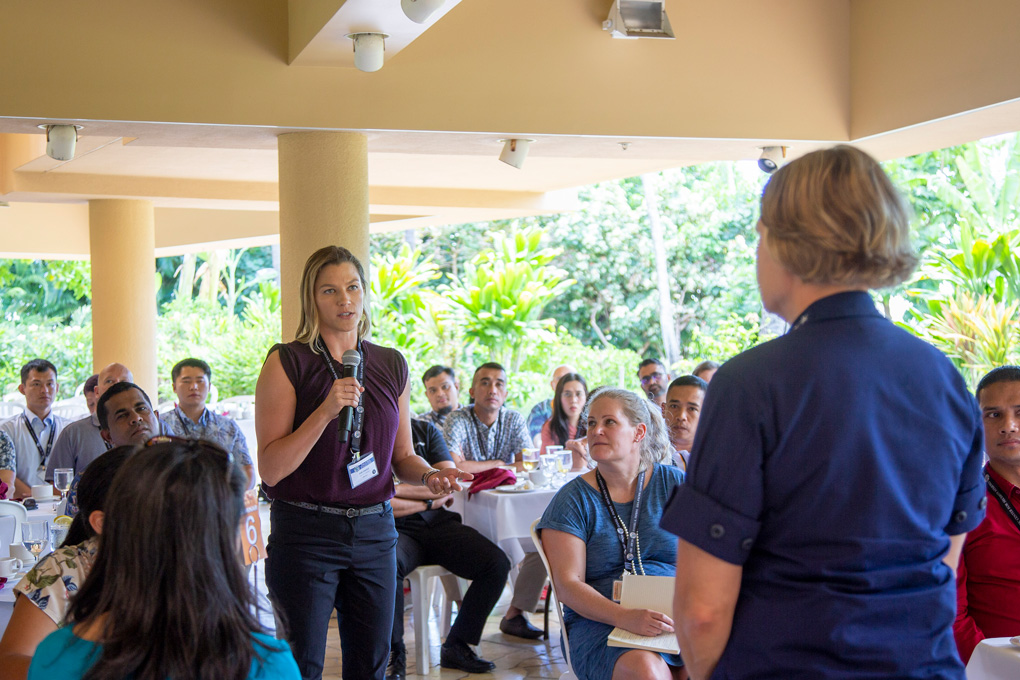 Admiral Linda Fagan, Commandant of the U.S. Coast Guard, paid a visit to the Fellows of the Comprehensive Security Course 22-3 as the first in a series of distinguished guest speakers.
Fagan, an alumnus of the Transnational Security Cooperation (TSC) course 19-1, was honored on June 1, 2022, as the first female Service Chief of any U.S. military service. In her remarks to the 103 Fellows, she expounded on the U.S. Coast Guard's various responsibilities, which include search and rescue, maritime safety, environmental protection, port security, and Illegal, Unregulated, Unreported (IUU) Fishing. Fagan emphasized that to enforce Maritime security in the Indo-Pacific region it will take a "unity of effort."
"Together, we strengthen maritime governance," said Fagan. "There is not any one of us in this room that has all the authority, capacity, and capability to counter some of the threats facing us collectively."
As an alumna, she encouraged the Fellows to take the time to engage with each other.
"You will be surprised where your run into [Fellows] and where you meet them," said Fagan. "I have run into my classmates several times [and] it is just powerful to know you can reach out and have those opportunities to connect."
Reflecting on her experience as a Fellow in TSC 19-1, Fagan recalled the enormous value of being able to hear the perspective of other nations.
"I valued the nations who stood up to talk and reflect on the complexity of some of these maritime governance challenges," said Fagan. "There is a tendency to view everything through a U.S. lens, so having that opportunity in a safe environment to say, 'allow me to understand your perspective,' was super valuable."
With nearly 30% of the CSC 22-3 Fellows female, Fagan hopes the female Fellows in the course will aspire to higher positions of influence in their governments and institutions.
During the Q and A session, a Columbian female officer asked Fagan what obstacles she faced as a female officer in a traditionally male-dominated environment.
Fagan explained that during the mid-70s, a decision was made in the U.S. government to integrate all of the U.S. military service academies. According to Fagan, that fundamental decision allowed her to become the U.S. Coast Guard Commandant four decades later.
"I have been in uniform for 41 years. The door swung open, and I was able to take advantage of an opportunity," said Fagan. "Opportunities sometimes look like a lot of hard work. As you get more senior, remember to create that same opportunity for those behind you so that there aren't barriers in place that have nothing to do with an individual's ability to contribute."
"I am a manifestation that there is nothing but opportunity out there. As that opportunity presents itself, step forward and be courageous, and you too can be leading your organization one day."
For CSC 22-3, future distinguished guest speakers will include Adm. Sam Paparo, Commander, USPACFLT; AMB MaryKay Loss Carlson, U.S. Ambassador to the Philippines; AMB Atul Keshap, Principal Deputy Assistance Secretary, Bureau of East Asian and Pacific Affairs, U.S. Department of State.