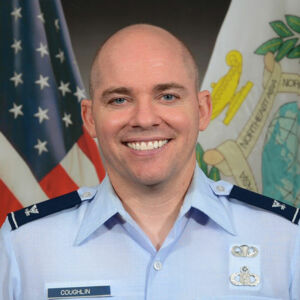 Colonel Joseph Coughlin came to the Daniel K. Inouye Asia-Pacific Center for Security Studies in July of 2023 following his assignment as the Commander, 8th Mission Support Group, Kunsan Air Base, Republic of Korea.
Colonel Coughlin graduated from Tolland High School, Tolland, Connecticut, attended Lyndon State College in Lyndonville, Vermont, and was commissioned upon graduation through the Reserve Officer Training Corps in 2000.  He is a command Meteorologist and has served a variety of operational and staff assignments at the Detachment, Squadron, Major Command, Headquarters Air Force levels, and Secretary of Defense levels.
Previously, Colonel Coughlin served as a Special Assistant to the Senior Advisor for Climate to the Secretary of Defense, Pentagon. He was responsible for consulting the Secretary of Defense and Joint Staff leaders on policy changes, developing inter-governmental  and international partnerships, and budget development for numerous climate issues.