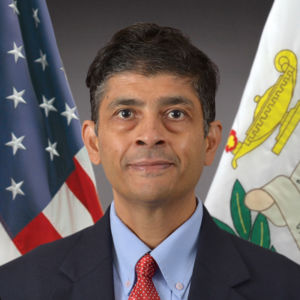 Dr. Srini Sitaraman joined the Daniel K. Inouye Center for Asia Pacific Studies (DKI APCSS) as a Professor in December 2019. His focus at the DKIAPCSS is on the Indo-Pacific Security with a particular focus on South Asia, Regional Conflict, and India-China Relations. He is also interested in New Technologies & International Security, Internet and Digital Diplomacy, Nonproliferation, and the United Nations and International Law.
Prior to arriving at the DKI APCSS, Dr. Sitaraman was a tenured Associate Professor in the Department of Political Science at Clark University in Worcester, MA, where he directed the award-winning Model United Nations Program. He was also a core faculty member of the Asian Studies Program and affiliated with the Strassler Center for Holocaust and Genocide Studies. In addition, Sitaraman was an Associate-in-Research at the Fairbank Center for East Asian Research at Harvard University.
Dr. Sitaraman holds a Bachelor's and Master's Degree in Economics from the University of Madras, India, and a Master's Degree in International Affairs from Ohio University. He received his doctorate in Political Science and International Relations from the University of Illinois Urbana-Champaign (UIUC). At UIUC, he was a Research Associate at the Program for Arms Control, Disarmament, and International Security.
His book State Participation in International Treaty Regimes (Ashgate Publishing) was published in 2009. Sitaraman's work has appeared in the Journal of Asian Security and International Affairs, Asian Journal of Peacebuilding, Journal of South Asian and Middle East Studies, Journal of Chinese Political Science, Human Rights and Human Welfare, Colorado Journal of International Environmental Law and Policy, The Diplomat, Foreign Policy in Focus, East Asia Forum, Georgetown Journal of International Affairs, and Amsterdam Law Forum. His extensive commentary on international affairs and nuclear nonproliferation has appeared in several major news outlets including the New York Times, Los Angeles Times, Wall Street Journal, Washington Post, and South China Morning Post.
Dr. Sitaraman's Publications: