DKI APCSS professor Dr. Mohan Malik has a new article entitled, "China and India: Maritime Maneuvers and Geopolitical Shifts in the Indo-Pacific" published in the latest edition of "Rising Powers Quarterly."  This issue has the theme– "The "Indo-Pacific" – Regional Dynamics in the 21st Century's New Geopolitical Center of Gravity."
According to the abstract:
China and India are engaged in a tug-of-war over naval bases and forward presence in the Indo-Pacific. The crisis in the Maldives and wrangling over a naval base in the Seychelles in the Indian Ocean illustrate the rapidly shifting geopolitical dynamics. For small states, economic engagement with China has strategic consequences. Electoral politics provides Beijing with the opportunity to court and entice politicians of fragile democracies along the "One Belt One Road" (OBOR) to gain an advantageous position for itself over its competitors. In fact, China's investments in littorals are less about development and more about Beijing's desire to establish itself as a "resident power" in the Indian Ocean – much as the United States, Britain, and France have done. Ironically, China's quest for resources, markets, and bases follows the direction taken by old imperial powers and attempts to establish an empire of "exclusive economic enclaves" run by Chinese conglomerates to usher in the age of Pax Sinica. This is now bringing former European imperial powers back to Asia in order to maintain a rules-based international order."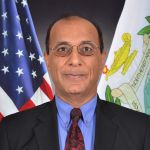 Mohan Malik is a professor in Asian security at the Asia-Pacific Center for Security Studies, Honolulu, and is the editor of Maritime Cooperation in the Indo-Pacific Region (Rowman & Littlefield, 2014) and author of China and India: Great Power Rivals (Lynne Rienner Publishers, 2011). The views expressed here are his own.