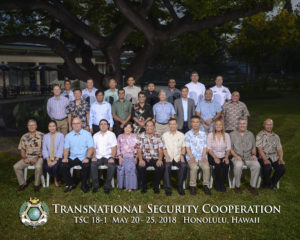 Twenty-five senior leaders from twenty-four locations participated in the Transnational Security Cooperation course (TSC 18-1) from May 20 – 25 at the Daniel K. Inouye Asia-Pacific Center for Security Studies (DKI APCSS).
The Course Manager for this iteration of TSC was Navy Cmdr. Jonathan Odom and the Course Coordinator was Lt. Col. Alex Bortado.
The course is offered twice a year to senior security practitioners from the whole-of-government and society at the vice-minister, ambassador, and senior military officer (one- to four-star rank) level.  It aims to enhance awareness of transnational security issues within the complex environments they occur; explore collaborative policies to address transnational security challenges; identify opportunities to strengthen states' capacities; and promote effective security governance.
TSC 18-1 examined the nexus between traditional and non-traditional elements of security to highlight the importance of a broader understanding of security. The blended approach of plenary lectures, elective presentations and an interactive gaming simulation kept these senior leaders actively from around the Indo-Pacific region engaged in a shared learning experience throughout the week.
"I'm learning a lot of new things because of the perspectives of other Fellows," explained Philippines Maj. Gen. Restituto Padilla, an AP-01 Alumnus.  "Besides this, there are very interesting and very thought provoking discussions that have begun during the sessions, which are clearly very important for security practitioners like me that could help in the drafting of policy for my country and engagements in the region."
Another participant in the TSC had a similar perspective on the course.
"What is unique about the courses that the DKI APCSS conducts, is that you talk about security and development challenges that are faced by the countries of the region," added Amb. Kunzang Namgyel, of Bhutan, and EC 03-1 Alumnus. "The professors and academic staff here do a whole lot of analysis on the contemporary issues facing the Asia-Pacific region, and how we can come to an understanding on how to solve many of these issues. Exchange of these experiences, which is most valuable, and sometimes it's an insight into the critical issues that face the Asia-Pacific region which is relevant to all of our countries."
TSC is one of five formal courses at DKI APCSS. The Center is a Department of Defense institution that addresses regional and global security issues. Military and civilian representatives, mostly from the Indo-Pacific nations, participate in a comprehensive program of executive education, professional exchanges and outreach events, both in Hawaii and throughout the Indo-Pacific region.
The Center supports U.S. Indo-Pacific Command by developing and sustaining relationships among security practitioners and national security establishments throughout the region. DKI APCSS' mission is to build capacities and communities of interest by educating, connecting and empowering security practitioners to advance Indo-Pacific security. It is one of the Department of Defense's five regional security studies centers.
Since opening in 1995, more than 11,536 alumni representing over 132 countries and territories have attended DKI APCSS courses and workshops.
-END-
Go to the DKI APCSS Facebook page for more photos.