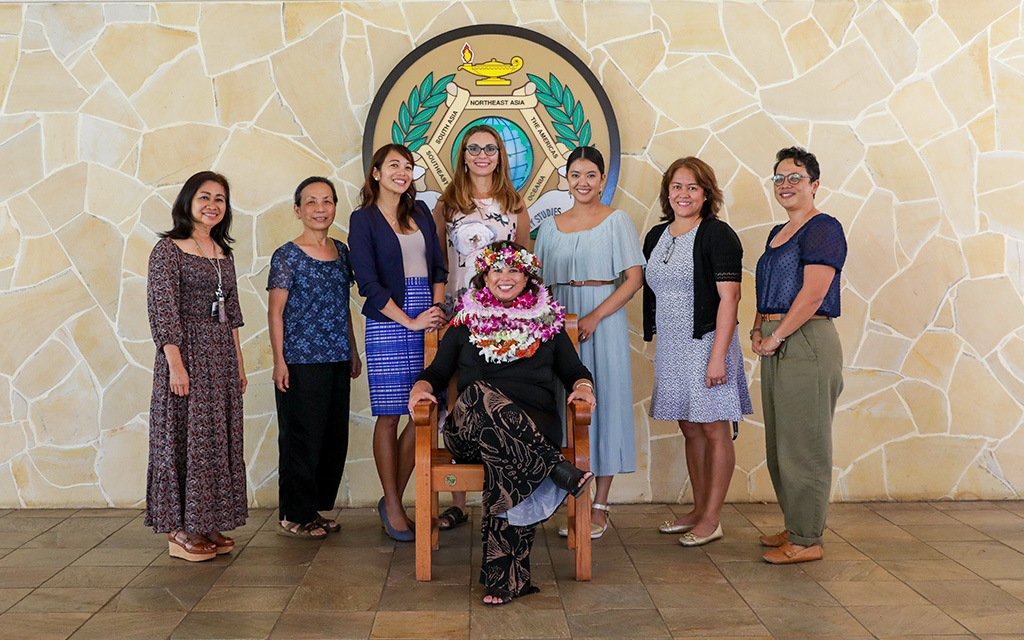 On February 17, over 80 family members, friends, and colleagues gathered in person and virtually to celebrate the career of Lenore Patton, Chief of the Regional Engagement Operations Division at the Daniel K. Inouye Asia Pacific Center for Security Studies (DKI APCSS). 
For 27 years, Lenore has served as a DKI APCSS plank holder. She is one of the original team members who evolved the Center's operations model for workshops, partnerships protocol and conference programs. 
 "The original team didn't just put this organization together," said Richard Sears, Dean of Business and Administration, and her supervisor since 2004. "They put their heart and soul into it as well." 
"When I look at the founding members and the character of this entire institution, it is because of [Lenore] and [her] hard work." 
Back in 1995, Lenore received an intimidating call from the Center's first Director, Colonel Jim Lackey, asking her to come to the U.S. Pacific Command Headquarters for an interview. In a dilapidated corridor of the building, she sat on a steel pull out chair because the room had no furniture. She quickly discovered that she was applying to work for an institution that, at the time, didn't have a name, an approved budget, a location, or a plan on how to conduct its first conference.  
She decided she would leave the world of high-end conferences and affluent clientele to search for purpose and value. At the Center, she found both.  On September 4, 1995, the Asia Pacific Center for Security Studies hosted its first inaugural conference.  The U.S. Secretary of Defense, the U.S. Chairman of the Joint Chiefs of Staff, and the heads of defense from various countries attended the conference with glowing reviews. 
From that day forward she would stand at the helm of a growing team that would crisscross the globe planning workshops and conferences in Honolulu and all over the world. In foreign countries she would meet with vendors, negotiate agreements, and site select venues. She fondly recalls on one occasion when a shipment of office supplies failed to reach their destination in Vietnam. Scrounging for basic office supplies, she finally discovered a treasure trove of quality office supplies in the recesses of a Vietnamese market. 
While Lenore and the team worked hard, DKI APCSS grew in reputation and prestige to soon become known worldwide as a valued institution.  She looks back on those initial years at the Waikiki Trade Center as "high adventure."   
"I had my time 27 years ago in the vortex of startup and invention, being perfectly imperfect as we just figured it out with hard work," she says.   
"It was more art than science. We had to learn as we go."   
With each event in the Center's storied history, she made her mark behind the scenes.  
In 2003, when the Center opened its new campus on Ft. DeRussy, it was Lenore who tied together the Maile garland lei that was cut by the Secretary of Defense William Perry, Senator Daniel Inouye, and then Director Hank Stackpole.  When the Center broke ground on the construction of Maluhia Hall, it was her idea to forgo a shovel and use a Hawaiian planting and digging stick (In Hawaiian called an o'o stick). The ancient Hawaiian tool was made of indigenous Koa wood and exceptionally difficult to find.  With unrelenting perseverance she found an o'o' stick, which Senator Inouye plunged into the ground on August 24, 2012 (the o'o stick can be seen on permanent display in the Center's lobby).    
As the Center continually found success over the years welcoming countless distinguished visitors, hosting courses and workshops with leaders from around the world, she remained behind the scenes, diligently getting the job done. 
"She has always been the first in line to accept responsibility and the last to accept praise," said Sears.  
She continued to evolve the Center's program by instituting an official visitor program for key leader engagements. She adapted the Center's conferences to tighter, outcome focused workshops that focused on bringing in subject matter experts from the region.  
Perhaps even more impactful, has been the impression she has left on the lives she has touched at the Center. 
"She has taught me perseverance humor, flexibility, ingenuity, patience, how to be kind hearted and what the term high class truly means," said Sears.  
"I always knew that when Lenore was a part of project it was going to get done right," said long-time friend and Chief of Public Affairs, Mary Markovinovic.  "It would be a done with a great sense of collaboration and calmness because she always calmed us all down."  
"She has been a friend and a mentor to all of us. Her steady work habits and her outstanding attitude has made an uplifting impact to all who have worked with her," said Cherrielynn Kamahele, who retired from the Regional Engagements Operation team last year. 
"She is a mentor," said Lynn Yamashita, who has worked on the Regional Engagements team since 1999. "She is determined. With Lenore the impossible is possible. We learned to always carry it thru." 
In addition to a Certificate of Retirement, she received a Certificate of Appreciation from DKI APCSS, the DKI APCSS Award of Excellence (the second person to receive such distinction), and the Exceptional Career Civilian Service Award from the Defense Security Cooperation Agency.  
During the ceremony, congratulatory letters were read from United States Senator Brian Schatz and Hawaii Governor David Ige.  She was joined in person by her husband, Scott, her eldest daughter Nichol, Jason Royabl (husband), and her daughters Kamaile and Tamara who attended virtually. 
She passes down the legacy of the Center to her two daughters Tamara and Kamaile, who both spent time as interns at the Center. In 2007, Tamara participated in the APCSS Student's summer program in the Public Affairs office. While auditing a class on Comprehensive Security Response to Terrorism she found her calling in the area of nuclear disarmament. She eventually earned her PhD in Science, Technology and Environmental Policy at Princeton University's School of Public and International Affairs in September 2021. Tamara is currently a Stanton Nuclear Security Fellow at MIT's Security Studies Program. 
 "[Her success] was because she came to APCSS as a young woman and learned what global security meant and why she needed to care," said Lenore.  
Her youngest daughter, Kamaile, was born in June of 1999. One week before her birth the Center hosted its biggest conference ever with 300 persons in attendance from 40 nations. During the event, her team followed closely behind her, fearing that she would go into labor. Twenty-two years later, Kamaile spent the summer of 2021 in the DKI APCSS intern program. Her participation in the intern program contributed to her admission into Brown University where she is now earning her Master's in Public Policy focusing on indigenous women's human rights. 
From a broom closet in a deserted corridor of the Pacific Command Headquarters, to the 19th floor of the Waikiki Trade Center, to its current location on Ft. DeRussy, for nearly three decades Lenore has championed the Center's mission and programs. She now leaves a legacy as one of the most important contributors to what the Center has become.  
"We did it with togetherness, humor, and empathy," she said. "DKI APCSS you will do the same and the results ahead for you will be equally if not even more rewarding. So I wish you all the best, DKI APCSS and thank you for allowing me to have been on this journey with you."