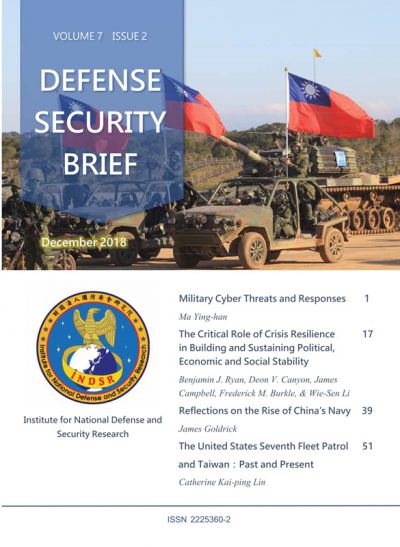 "The Critical Role of Crisis Resilience in Building and Sustaining Political, Economic and Social Stability" is a new article co-authored by Benjamin J. Ryan, Deon v. Canyon, James Campbell, Frederick M. Burkle, and Wie-Sen Li.  It was recently published in the Defense Security Brief, volume 7, issue 2
According to the authors:
"For the Indo-Pacific to build and maintain crisis resilience, implementation is required at regional, national, provincial and local levels. However, without a resilient local government and community, national and provincial resilience is not possible. This is because the local community levels are most intensely and immediately impacted by a crisis.  The first responders work and live in communities affected and are best placed to understand the context that shapes their priorities and needs. All communities are different, with varied geography, critical infrastructure and population risks and vulnerabilities.  Enhancing community resilience and taking responsibility for that resilience extends to the "anticipation and assessment of threats" (Roders, 2011). Ultimately, resilience depends on the capacity, competence and willingness of local governments and their communities to sustain and advance strategies that integrate crisis mitigation and adaptation (UNISDR, 2018)."
You can read the full article online at this link.
The Defense Security Brief is produced by the Taiwan Institute for National Defense and Security Research.
The views expressed in the article are those of the authors and do not reflect the official policy or position of any organization or government.