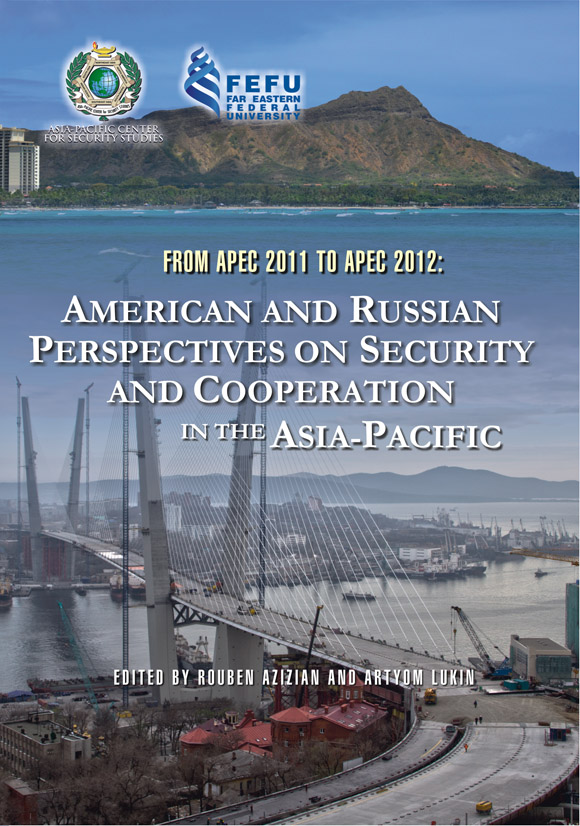 On the eve of the APEC 2012 summit, which begins next week in Vladivostok, Russia, it is our pleasure to announce the publication of the volume "From APEC 2011 TO APEC 2012: American and Russian Perspectives on Asia-Pacific Security and Cooperation. "
The volume, edited by Dr Rouben Azizian and Dr Artyom Lukin, is jointly produced by Asia-Pacific Center for Security Studies (APCSS) and the Far Eastern Federal University (FEFU) of Vladivostok, Russia. The team of book authors includes twelve APCSS faculty members and eight Russian experts representing FEFU and the Russian Academy of Sciences. Seven of the Russian authors are APCSS alumni.
The volume examines three broad and intertwined themes of significant importance for the Asia-Pacific region. Firstly, the book discusses the complex mosaic of current and emerging regional security issues and relates them to the activities of the Asia-Pacific Economic Cooperation (APEC) forum and other regional organizations. Secondly, the volume contributors offer their diverse perspectives on the evolving roles of influential regional actors, such as China, Japan, Russia, and the United States. Thirdly, the book examines the gaps and opportunities in US-Russia relations in the context of their increased appreciation of the Asia-Pacific region.
The book is thematically divided into two parts. Part One reviews regional security trends and emerging issues. Part Two discusses major actors, evolving principles, and regional architecture.
Click here for an electronic copy of the Volume.  The printed version will be published shortly.
-END-
---
The views expressed in these articles are those of the authors and do not reflect the official policy or position of APCSS, the U.S. Pacific Command, the U.S. Department of Defense, or the U.S. government.