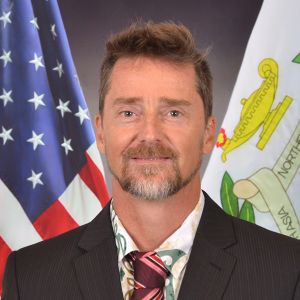 Dr. Deon Canyon joined the Daniel K. Inouye Asia-Pacific Center for Security Studies in 2016 after working at the University of Hawaii, Curtin University and James Cook University where he focused on global health protection, health security and crisis management. A Hawai'i resident since 2011, Dr. Canyon is well regarded as a crisis scholar for his work on vector-borne disease, bioterrorism preparedness, crisis management auditing, and crisis leadership.
Following a career in multicultural arts and theatre, Dr. Canyon became fascinated by the complex subtleties of infectious vector-borne diseases, and was awarded a scholarship to complete a science-based PhD with a dissertation on dengue transmission dynamics and integrated vector control. After he completed a master's degree in the broad field of public health he began to investigate the interplay between disasters and management practices. This led to another scholarship and a second doctorate in business administration with a focus on crisis leadership. Having broad multidisciplinary research interests, Dr. Canyon worked in several disparate fields with the common thread being the understanding, management, control and prevention of threatening situations that involve complex and dynamic interactions. His interest in crisis management, humanitarian action and disaster risk reduction began with a research project on bioterrorism preparedness competencies in health leaders. Subsequently, collaborative work with several distinguished international crisis scholars led to the development of curricula on crisis leadership and health security. Specific related activities included crisis management audits on over 130 organizations and interviews with 2000 leaders from business, health and emergency management organizations in Australia, Papua New Guinea, India and the Philippines.
Having coordinated and taught undergraduate and postgraduate university students since 1996, Dr. Canyon has significant experience in curriculum development and teaching. He has taught on crisis leadership and management, governance, security sector development, risk management, security in Oceania, bioterrorism, preparedness, health protection and security, global changes and human health, environmental health, medical entomology, and inclusion. His teaching style has a reputation for relying on evidence-based information, engaging students in thought-provoking discussions and stimulating critical analysis. He proactively encourages students and colleagues to continue life-long learning for professional and personal development. More recently, Dr. Canyon has forayed into the exciting world of serious games and adversarial exercises. His transnational security exercises involve 30-110 people and develop abductive reasoning by requiring decision-making in fast-paced, politically charged, crisis-laden environments.
Dr. Canyon has published over 175 peer- reviewed journal articles, book chapters, conference papers, books and conference papers, reviewed for over 40 journals, served on several editorial boards, and is a Fellow of the Australasian College of Tropical Medicine. Having been a Papua New Guinea citizen, Dr. Canyon speaks Tok Pisin, Bislama and Solomon Pijin, and is well acquainted with the traditional practices and cultural norms of Pacific Islanders and Australian Aboriginals. In 2023, he became the Associate Dean of Academics.