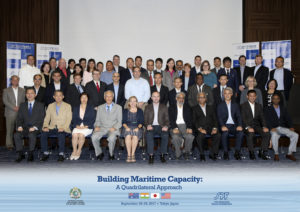 The Daniel K. Inouye Asia-Pacific Center for Security Studies (DKI APCSS), in conjunction with our partners at the Sasakawa Peace Foundation (SPF), hosted a three-day workshop entitled "Building Maritime Capacity: A Quadrilateral Approach" from September 26 to 28 in Tokyo. The workshop brought together representatives from the United States, Japan, Australia, and India, along with security practitioners from Sri Lanka, Palau, Indonesia, Papua New Guinea, and Vietnam to set the theater for increased coordination in maritime capacity building among the key players of the Indo-Asia-Pacific.
This workshop built upon two previously existing trilateral lines of discussion- the Japan-India-U.S. trilateral and the Australia-Japan-U.S. trilateral-, to advance maritime capacity building.
"The workshop highlighted the value of increased information sharing among the major providers of security-related capacity building assistance," said Dr. Lori Forman, center lead for the workshop. "The field of development assistance has such mechanisms dating back to 1960, but formal multilateral coordination systems are much less developed in the security field."
The workshop participants identified four strategic goals for maritime capacity building as common among the four nations:
– Support to maritime law enforcement.
– Professionalized support to building maritime law and policy.
– Long-term operational capability development.
– Assessment of existing authorities and arrangements within and between countries of interest.
The format included framing presentations by Subject Matter Expert (SME) speakers, interactive polling, and facilitated small group sessions. Case studies linked the concepts, policies, and strategies with concrete needs and opportunities in the region. Using the findings discussed during the plenary sessions and breakout groups, participants developed recommendations for next steps to be undertaken by their organizations and between their nations to build maritime capacity in the region.
The workshop identified several policy challenges, as well as opportunities, among the represented nations. All participants recognized the need to clearly articulate their national goals, policies, and coordination mechanisms as prerequisite to success at a multilateral level. Additionally, all the participants noted that official participation by representative delegations from contributing nations is vital for real multilateral coordination to occur.
Participants concluded that a quadrilateral solution to capacity building is challenging in the near-term, but also agreed that niche opportunities for quadrilateral coordination exist. Bilateral and trilateral steps toward this goal, said all attendees, are a way to manage expectations.
According to Vice Admiral (Ret) Shekhar Sinha, the workshop was "great opportunity to connect with so many thinkers from far and wide."  Sinha also noted that "even a small step by each of us could be a giant leap" toward fostering collaboration in maritime capacity building.
The overarching goal of the workshop was identification of shared strategic and security goals in maritime capacity building, with understanding of policy instruments employed in the United States, Japan, India, and Australia in pursuit of those goals and identification of gaps between policies that can be addressed through national processes. In addition, the participants identified concrete activities in maritime security capacity building which provide opportunities for greater cooperation and/or synergy among quadrilateral partners in the three major ocean sub-regions of the Indo-Asia-Pacific.
The Center supports U.S. Pacific Command by developing and sustaining relationships among security practitioners and national security establishments throughout the region. DKI APCSS' mission is to build capacities and communities of interest by educating, connecting and empowering security practitioners to advance Asia-Pacific security. It is one of the Department of Defense's five regional security studies centers.
Since opening in 1995, more than 11,509 alumni representing over 135 countries and territories have attended DKI APCSS courses and workshops.
-END-