By Dr. Saira Yamin
December 17, 2018, Pakistan Politico
"US-Pakistan Relations: The Search for a Middle Ground" (link is external) published by Pakistan Politico is the latest article by Dr. Saira Yamin.
According to Yamin, "Relations between the United States and Pakistan have soured considerably in 2018.  A recurring exchange of flustered tweets by statesmen on both sides suggests that they may be ready to move on.  However, it may be worthwhile taking a pause to consider what may be at stake.  Disengagement and  estrangement would not be new words in the U.S.- Pakistan lexicon."
In the article, she discussed the history of US-Pakistan relations and how that changed after 9/11.
"The costs of the war have been immense for the region and the U.S.  It is time to do things differently. Negotiations offer the best opportunity to influence the Taliban who have traditionally been reluctant to talk to the Afghan government.  This is where Pakistan's role is critical," stated Yamin. "While the media is abuzz that the U.S. and Pakistan may  soon be parting ways, if history is a guide, they can be reliable partners."
Read the full article online at: http://pakistanpolitico.com/us-pakistan-relations-the-search-for-a-middle-ground/ (link is external)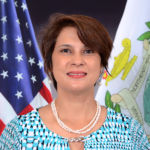 Dr. Saira Yamin is a Professor at Daniel K. Inouye Asia-Pacific Center for Security Studies in Honolulu, Hawaii. The views expressed in the article are those of the author and do not reflect the official policy or position of any organization or government.